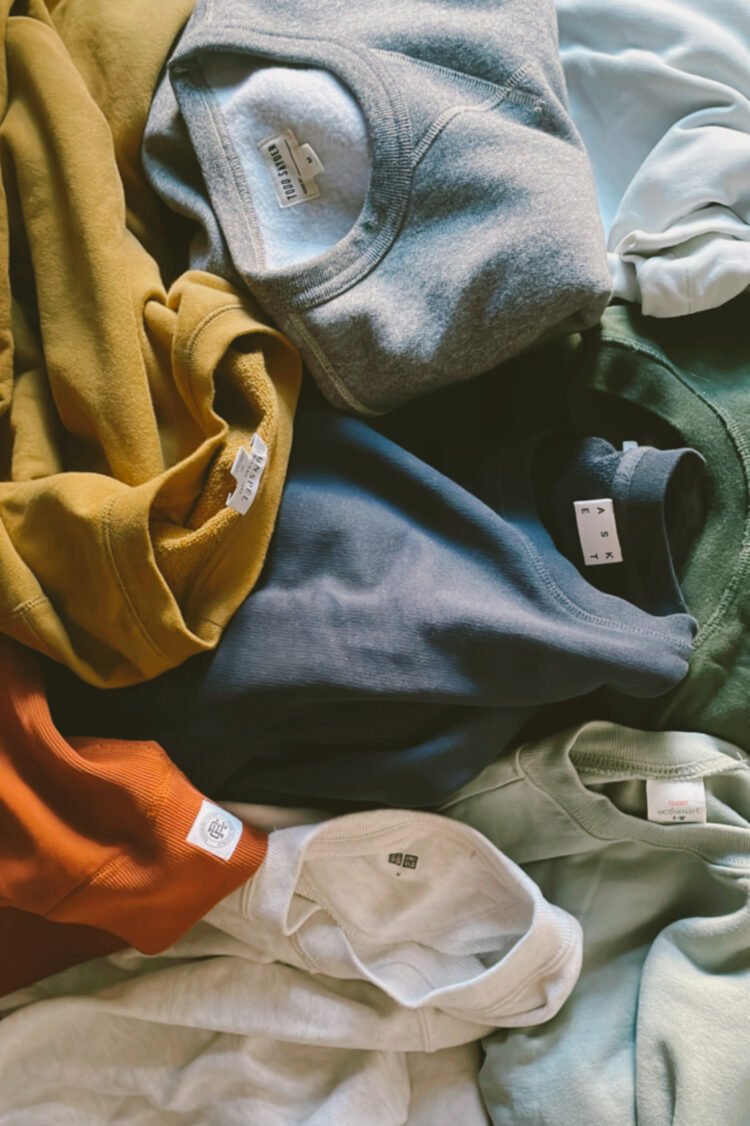 The best sweatshirt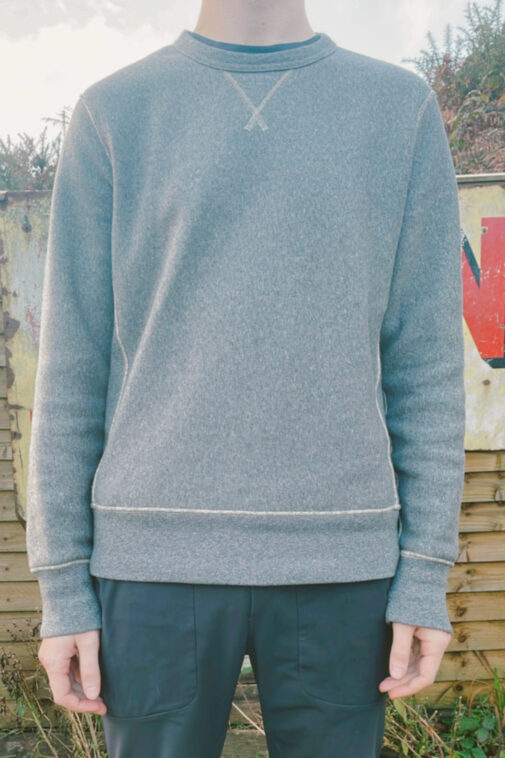 Best Overall
Todd Snyder
Issued By: Fleece Crew Sweatshirt
The archetype of a classic grey sweatshirt with luxuriously thick fabric, contrast stitching, a characteristic V‑notch and a soft brushback interior ideal to lounge and layer with. Made in Canada.
This is everything I want in a sweatshirt: thick 16oz fleece, contrast stitching, subtle branding, a characteristic V‑notch and a roomy but not billowing fit. Before starting this guide I was certain a 100% cotton fabric would win out but this 80⁄20 cotton poly mix is shockingly good. Generally with polyester you're trading off softness and warmth for stability and robustness but I think the very thick weight of the fabric and the brushback interior makes up for the warmth and softness you lose to the blend and gives it a lovely drape. As a result, of the sweatshirts I tested washing and drying, Todd Snyder (and Reigning Champ with its pre-shrunk cotton) faired the best.
I tested the Salt & Pepper colourway and it has a beautiful, dappled quality. There's generously long ribbing at the waist and cuffs that lend it a sort of relaxed, slouchy feel but you can roll up the cuffs to dress it up. If you do have short arms though I'd recommend our ​"Also good" pick instead.
For the best sweatshirts many point to the Vietnam-made Todd Snyder + Champion collaboration but I think its worth paying that extra $50 to get a garment produced closer to home. This leads me to the biggest con with this sweatshirt — its price tag. Its expensive, but I believe worthwhile for an excellent garment that'll last. For Todd Snyder as a company we'd love to see their website list country of origin on all their garments (and not just when its a selling point) and consider using fabrics with a third-party certification like BCI cotton. Outside of those, I have only good things to say about the sweatshirt. This autumn and winter its become a personal favourite to layer under coats and lounge in next to the fire.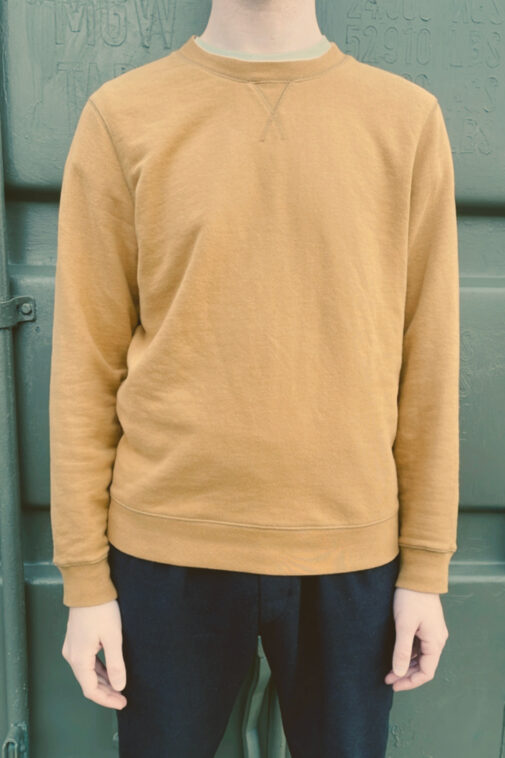 Also Good
Sunspel
Loopback Sweatshirt
A luxury basic from the English king of luxury basics. A buttery smooth exterior and simple patterning is combined with a huge array of beautiful tones to add colour to a dreary fall/​winter day. Made in Portugal.
Sunspel's sweatpants were our favourites in our review of the best sweatpants so perhaps its no surprise we really liked their sweatshirt too. It uses their same Q40 fabric which is an exceptionally soft tight-knit loopback that's soft, warm and ages well. A word of advice though, this fabric will noticeably shrink in the dryer so make sure to only air dry. Q40 is sooo soft on the exterior but unfortunately only reasonably soft on the interior. This tradeoff seemed fine on my legs but on a sweatshirt the added softness of a brushback fabric around your hands and neck would've been nice to have. However, the interior will get softer with age and washes.
The sweatshirt is fairly minimalist in its patterning with ​"the dorito" (the triangular piece of cloth below the neck) as its only embellishment. A fairly trim fit, minimalist appearance and elegant drape gives the sweatshirt a slightly formal appearance that you can dress up or down depending on the look. Where this sweater really shines however is the vast variety of tasteful, rich colours Sunspel produce it in. I tested the Ochre colourway and its been an ideal companion in the cold months to layer for a splash of colour under a dark winter coat. It's a cozy, elegant, buttery blanket of a sweatshirt.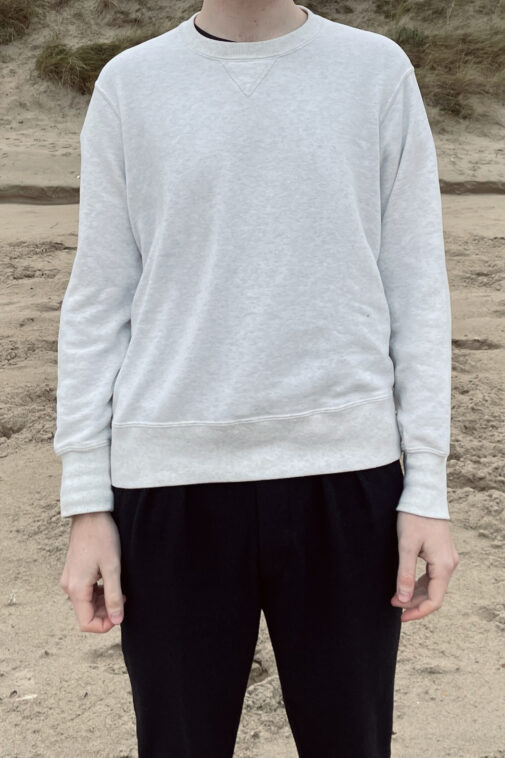 Best Budget
Uniqlo
Unisex Sweatshirt
A cheap and cheerful sweatshirt from the Japanese high-street brand. A lounging fit, soft 100% cotton fabric and wide variety of colours and sizes make it an easy recommendation for those on a budget. Made in Vietnam.
Uniqlo always somehow spin straw into gold producing low-cost garments that are as good as middle-of-market items twice the price. Their Unisex Sweatshirt (or just Sweatshirt in the US) is excellent value for the price. Its the only 100% cotton sweatshirt I found under $50 which alone made it standout in this price bracket where others were quick to make 50/50 polycotton blends.
The fit is slightly loose with the shoulder seams dipping down to the sides. It has some classic detailing with the characteristic triangle of fabric below the neck, a semi-cicle of fabric at the nape and—like their sweatpant counterparts—generously wide ribbing on the waist and cuffs.
Versus the premium sweatshirts you can see the fabric is thinner and wrinkles easier but for something a third or quarter of the price it more than hold's its own. As always we'd love to see more transparency out of Uniqlo. A good start would be listing where their clothes are produced on their website. This sweatshirt is made in Vietnam which I think is part of a larger trend of Uniqlo moving manufacturing out of China to avoid the Uyghur controversy and diversify their supply chain to be more robust.
What we looked for
Fit: A loose, lounging fit that can be dressed up or down to fit the occasion. We shied away from billowing, relaxed sweats that are difficult to layer and skin tight fits, we wanted something that was rooted in the spirit of the sportswear original: comfortable and easy wearing.
Fabric: A soft, warm, stretchy fabric that washes well and resists pilling. In general this means a 100% cotton or high cotton blend. Ideally, with a long staple length and a third party certification like BCI that ensures a base level of care was taken for humans and land in its production.
Origin: Where the fabric is milled and the sweatshirts are sewn. We looked for sweatshirts from factories and mills in countries with safe and strong labour laws. We gave preference to companies who make this information transparent and easily accessible on their websites and labels.
Details: We looked for sweatshirts that had the tell-tale characteristics of this classic piece of Americana. This means a notched V, loopback cotton, contrast stitch and ribbing on the cuff and waist.
Versatility: A sweatshirt that can safely move from the home to a restaurant. In testing, sweatshirts without conspicuous brand marks were better at this transition. Some fits were too relaxed to style otherwise but the best sweatshirts can be dressed up or down.
Availability: We looked for brands that produced the same sweatshirts for consecutive seasons with little variation and that were available year-round. Colours may change but the model remains the same.
Price: We tried sweatshirts from £16 – £120, the limit of what we thought was an acceptable price for an average person. This unfortunately meant no traditional loopwheeled* sweatshirts were within our range.
*Loopwheeling is an old style of jersey manufacture where the fabric is woven slowly at low tension in a long tube, it's naturally soft and a bit stretchy but very rare these days.
Disclosure: Sunspel, Todd Snyder, and Asket sent sweatshirts to us to review. All other items were purchased at retail.
The competition
The Hanes ComfortBlend EcoSmart Crew Sweatshirt is bad. Really bad. I generally try to find the cheapest item in a category as a benchmark to judge others. Sometimes I'm pleasantly surprised (see our baseball cap review) but this time it demonstrated how optimizing for price at every turn really hurt the garment. The fit is loose and unflattering, its poorly sewn with uncut threads, sloppily sewn seams and the thin 7.8oz 50/50 polycotton fabric feels horrible to the touch. They don't list the country it's made in on their website and worst of all they try to greenwash it as "Ecosmart" and with "Recycled Content" when in reality its only "up to" 5% recycled plastic. The compliance and sustainability expert I consulted for this article was visibly disgusted at this. She noted on the care label they can't even list it as recycled polyester since the content is so low. If your budget can't go north of $20 you're better off thrifting. Made in Guatemala.
On the opposite side of the spectrum Asket's The Sweatshirt exceeded every other sweatshirt in terms of sustainability and transparency. The care label meticulously lists the origins of each element of the sweater from the fabric to even the thread and labels. It's truly impressive how much insight they have into their supply chain. Even the typical poly bag that clothes arrive in (to prevent mold in the factory) was made of paper. The sweatshirt itself is spartan in its detailing, eschewing the characteristic collar "V" and contrast stitching in favour of a more formal Scandinavian minimalist aesthetic. The fabric is on the thinner side which is nice for layering under a jacket and the fit is pretty slim. There's a wide range of colours and importantly for taller or shorter guys they make a wide variety of widths and lengths. My own bias is towards those traditional Americana details and a thicker sweatshirt but if sustainability, transparency, or minimalism are your top priorities this is the one. Made in Portugal.
The Russell Athletic Dri-Power Fleece Crew Sweatshirt is a modern offering from the brand who originally invented and popularized the sweatshirt (as sportswear for football players tired of itchy woollen jerseys). Fittingly, it's the archetype of a sweatshirt—thick, soft and voluminous with a top heavy fit. For $20 its very reasonably priced but its 50/50 polycotton fabric despite having a brushback interior still feels a little cheap and harsh. Made in Honduras. If you'd like to get something close to the original 1920s piece of Americana today you'll ironically need to turn to Japan for a loopwheeled sweatshirt—check out The Real McCoy's.
The Reigning Champ Midweight Terry Crewneck came highly recommended. Many sweatshirt have a characteristic ribbing on the waistband and cuffs but this sweatshirt takes it one step further and runs the ribbing up either side of the torso below the arms. I assume this is for flexibility but the shirt didn't seem any more comfortable than others and instead just lended it a strange appearance. Possibly as a result of this there's an unusual half-raglan panelling around the shoulders. Reigning Champ always produce a black and grey model but their seasonal colourways are really beautiful. I tested this sweatshirt in "Sierra" and I really enjoyed its rich, terracotta tone (though the decision to use a black thread for the interior label led to some unsightly black stitches on the back of the garment). I liked this sweatshirt a lot but there are some strange design decisions that makes it hard to recommend to everyone. Made in Canada.
Kotn is another Canadian sweats maker that tries to set itself apart by being a B-corp that upfronts its close relationship with their Egyptian cotton farmers and millers. The Kotn Essential Sweatshirt is their offering in this category and its solid. Its has a relaxed fit with sloping shoulders, brushback interior and is 100% BCI (Better Cotton Initiative) cotton. BCI is a third party standard that certifies cotton that upholds certain environmental and ethical standards in its production. The Essential Sweatshirt is big and soft and voluminous but I found the relaxed fit slightly ungainly and difficult to layer under jackets. A nice piece to lounge in but difficult to fit into a wider wardrobe. Made in Portugal.