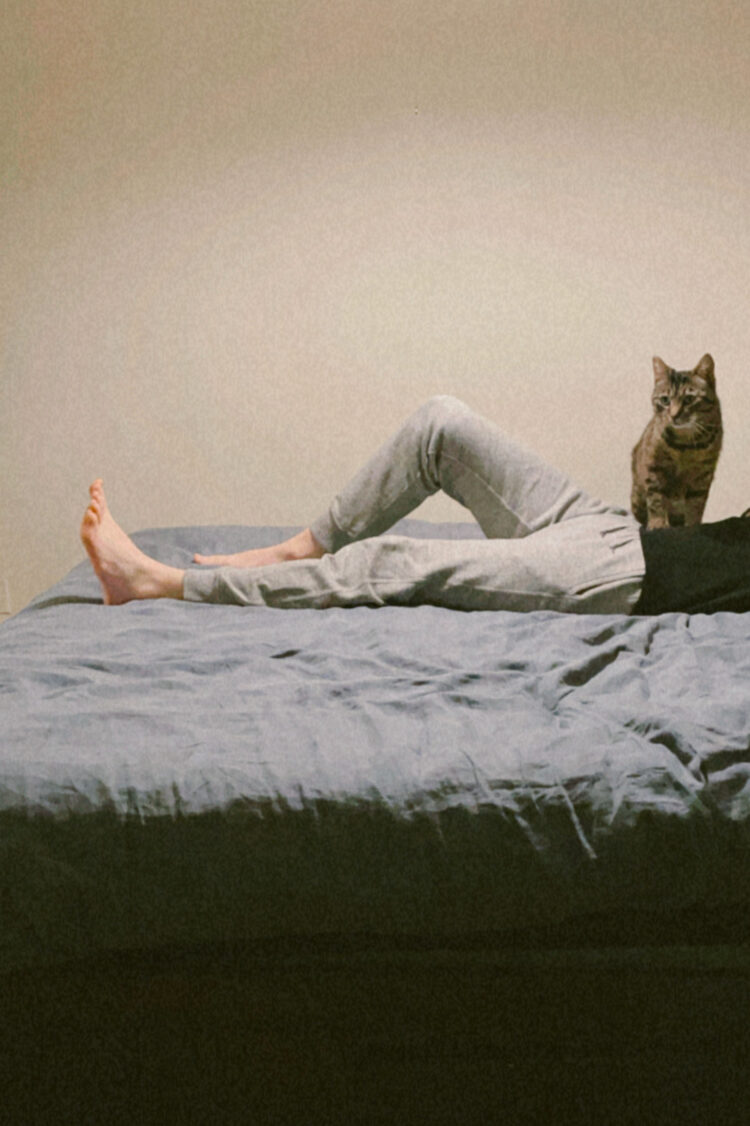 The best sweatpants
You don't need hard-wearing or weatherproof clothing if your commute is twelve seconds long. In the work-from-home world sweatpants are king. They'll always be comfortable but the best are also able to be dressed up or down.
Over the last four months we've researched 21 pairs of sweatpants and tested 11. Sunspel's Men's Cotton Loopback Track Pant came out on top as the best sweatpants. If you're looking for sweatpants you can actually work-out in or survive a drizzle check out the Lululemon ABC Jogger Warpstreme. Finally, if you're budget conscious the Uniqlo Sweatpants are simple, done well.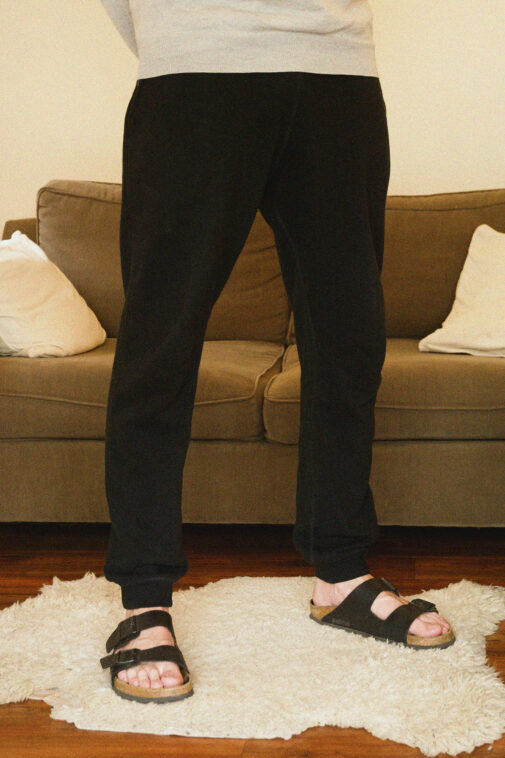 Best overall
Sunspel
Cotton Loopback Track Pant
A soft and well constructed sweatpant that threads the needle of sophistication and comfort. Made in Portugal.
Buttery, buttery softness. Picking up the Sunspel Cotton Loopback Track Pant your first impression is they're incredibly soft to the touch. They use a traditional 100% cotton loopback fabric but with the modern touch of a little elastane in the waistband and cuff for added stretch. Their ​"Quality 40" fabric has a very tight knit making them soft, stretchy, warm and resistant to pilling. Did I mention they're soft?
Sunspel have successfully walked the tight rope with a loose but not baggy fit on these pants. Unlike many other sweatpants they have a three pocket construction which is useful if — like me — you keep your wallet in your back pocket. The drawstring is mercifully on the interior of the pant meaning you can hide or show them to your preference. The drawstring toggles are fully capped with metal to lend a premium quality to the pants.
Many sweatpants struggle to move from the couch to the workplace but Sunspel's track pants can. The clean lines, minimal look and absent branding make it easy to combine with any look — particularly in the black colourway. Schlub it up with a hoodie and trainers or dress it up with a sweater and top coat. You'll be fine either way.
One of the few downsides is the loopback nature of the fabric means the pant interior is disappointedly — achingly — not as soft as the exterior. These pants are also among the most expensive researched but I'm already planning to buy a second pair so I've been convinced the price tag is justified. Like the rest of Sunspel's line these pants are produced in Portugal, which is great. Though we would like to see them be more open about sustainability and traceability. My list of qualms about these sweatpants is short though. Take a bow, Sunspel, these are excellent.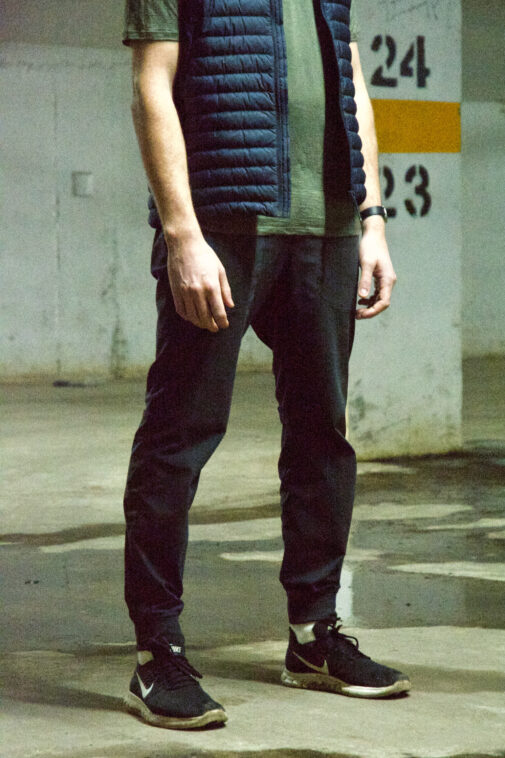 Best for activity
Lululemon
ABC Jogger Warpstreme
The athleisure giant, best known for their yoga pants, packs a punch with these synthetic sweats. They're feature-rich with a large gusset, extensive pockets, and reversible drawstring. Only their origin and traceability give pause.
The Lululemon ABC Jogger is a sweatpant you can actually sweat in. The four-way stretch polyester fabric won't soak up rain or sweat like cotton, perfect if you're looking for a harder-wearing sweatpant that can handle the outdoors.
ABC stands for ​"Anti Ball Crush". Seriously. This acronym is the headline feature of their pants which is essentially a huge, flexible gusset across the crotch to make it easy to sit, stretch and run. There's eyelets on both the interior and exterior of the waistband so you can expose or hide the drawstring to make the pants more or less formal. There's a zip pocket on the back and spacious front pockets that themselves contain tiny mesh pockets inside to slip your keys into and stop rattling.
The pattern-maker I consulted for this review was highly complementary of the detailing on the pant. The front 1⁄4 top pockets have ribbing on the corner to make their expansion easier and alleviate the tension on a high stress seam. There's also a subtle articulation on the leg to reduce the bulk in the back of the knee. A huge amount of thought and care has got into the design of these joggers.
We'd prefer a looser fit but the big con with these sweatpants is their origin and transparency. They're obfuscated simply as ​"imported" on their site but these are made in Bangladesh, a country with a history of garment worker abuses. An investigation from The Guardian found evidence of a Lululemon manufacturer's poor treatment of workers and low wages there. We'd like to see Lululemon list countries of origin like industry leader Patagonia and work only with suppliers that have good employee welfare track records. Hopefully some of the bad press is pushing them in this direction.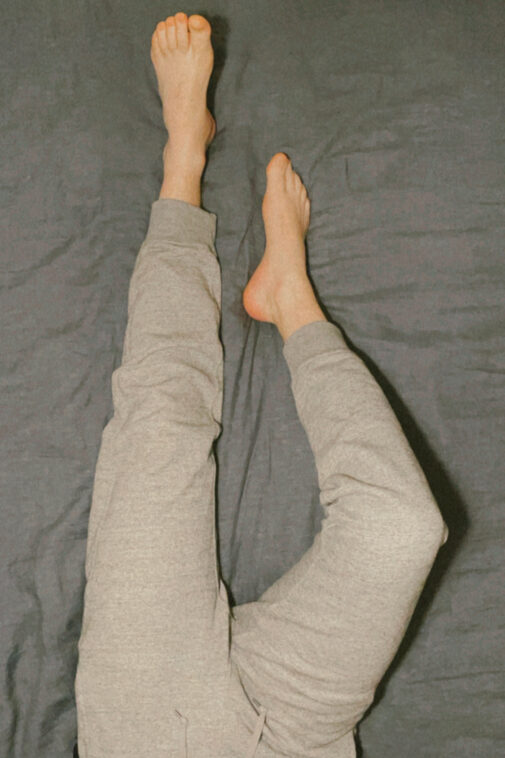 Budget Pick
Uniqlo
Men Sweatpants
A simple sweatpant done well. A cotton-mix, loopback fabric with generously wide ribbing on the waist and a more narrow, tapered silhouette. Made in China.
The Uniqlo Sweatpants are a simple, soft, cotton, loopback pant with a little polyester knitted in for structure and durability. They have a generously thick ribbing on the waist that spreads out the pressure on your stomach and are available in a wide spread of sizes and colours. These sweatpants are simple, done well.
The sweatpants are produced in China which as we've discussed on the site before is a real mixed bag for working conditions all the way from quite good to forced labour. Uniqlo has been tied to the use of Uyghur forced labour camps in China's Xinjiang region, in fact they advertised Xingiang cotton as a selling point in some garments. Uniqlo don't disclose the exact factory on their site that garments are made in so it's impossible to say whether the manufacture of these sweatpants is above board or not. We'd like to see Uniqlo be more transparent about their supply chain.
The sizing tends to run smaller than the UK and US as they're a Japanese brand so pay attention to their size chart. Uniqlo tends to design quite tight silhouettes and these are no exception. If like us you prefer something roomier check out their Christophe Lemaire led Uniqlo U Sweat Pants. These are seasonal so may be out of stock but a good option if Uniqlo's typical silhouette isn't to your tase.
What we looked for
Fit: A baggy, relaxed or straight fit. So many sweatpants on the market are claustrophobically tight or aggressively tapered. You want to relax in your sweatpants.
Fabric: A soft, warm, stretchy fabric that washes well and resists pilling. The sweatpants tested broadly fell into either cotton or synthetic based. For cotton we looked for a long staple length, tight knit and no more than 10% polyester blend. For synthetics we looked for four-way stretch, a DWR treatment and a high mix of recycled polyester.
Origin: Where the fabric is milled and sweatpants produced. We looked for sweatpants from factories and mills in countries with safe and strong labour laws. Similarly, we gave preference to companies who make this information transparent and easily accessible.
Versatility: A sweatpant that can safely move from the couch to the office. In practice, we found pants without conspicuous brand marks were better at this transition. Many sweatpants are too schlubby to wear on more formal occasions but the best can be dressed up or down.
Waist & Cuff: The signature details of a sweatpant. We looked for a cozy, stretchy waistband and a pant-leg cuffed to be tight around your ankle for comfort and warmth. There's a wide variety in approaches for this but I gave preference to those who managed to maintain a clean, non-wavy line with their waist and cuff.
Availability: We looked for brands that produced the same sweatpants for consecutive seasons with little variation and that were available year-round.
Price: We tried sweatpants from £15 – £115, a wide gamut and the outer limits of what we thought was an acceptable price for a normal person. Sorry, no £2k cashmere sweats.
The competition
The Champion Life Reverse Weave Joggers are the historic American brand's best selling pants. They're well constructed and sewn, they have a soft brushback interior, a sizeable gusset, and the fabric is mostly cotton with a little polyester for durability — but that's where the pros end. The sweats are produced in Indonesia so not really the classic American manufacturer they once were. The fit is also super strange. They really aggressively taper from the thigh down, slightly reminiscent of jodhpurs, a style past its zenith. I've never been accused of having a large butt or thighs and I found the seat too small so I think any leg day guys should gives these a wide berth. Maybe these are for the teens. The pocket openings are also too wide and led to my phone and wallet falling out when I sat down. In retrospect I wish I'd tried their second best seller, the Champion Life Reverse Weave Sweatpants as I feel these would be more to my taste.
The COS Cotton Jogging Trouser varies a little each season but has been a consistent item in the H&M spin-off's line. The pants are produced in China, a country with hugely varied working conditions so without knowing their exact factory it's hard to know what you're buying into. The 100% cotton body tapers nicely down to an open-bottom. But what sets these sweatpants apart is the waistband and pocket detailing. They use a second fabric, a shiny polyester weave that lends them a somewhat premium quality. The drawstring is overly long and there's question marks over the origin but I think the real dividing factor on these for most people will be whether you love/​hate the sheen on the polyester elements.
Lady White Co is a LA brand that mills and manufactures in the US. LWC are what Russell Athletic and Champion once were — casual sportswear made in the USA. Their LWC Sweatpant is entirely cotton, with a gusseted crotch, on-seam pockets and a brushed-back interior for softness. They're comfortable, flexible and washed well but I would've loved to have seen a cuff on these as they're patterned long with an open-bottom so you essentially need to roll them up. Pay careful attention to the size guide and contact the brand if needs-be as they list the pants at their min/​max drawstring width so it can be a little tricky to feel out. I can see these going down well with the older skater/​surfer crowd looking for classic Americana.
Muji don't currently produce a ​"sweatpant" but their Muji Easy Trousers sure do quack like a duck. Cut-wise they're actually very close to our top-pick from Sunspel but without the typical sweatpant cuffed leg. Their polyester blend is unfortunately a little harsh to the touch but if they ever make a 100% cotton version they'd be an easy recommendation. Muji change seasonally and seem intent to ignore ecommerce exists so if these piqué your interest I recommend going into a store and checking out the current line.
The Patagonia Men's Terrebonne Joggers were in a class of their own among the sweatpants I tried which makes them difficult to compare. They were one of the few purely synthetic sweatpants I tested and they are incredibly light at 170g. I have heavier t‑shirts. The fit is quite slim and straight, maybe a little dorky with the elastic waist band and exposed front drawstring but they would be the ideal pants to switch into at night for a summer camping trip. Given their durability and lightness, Patagonia also market them for running, climbing and yoga. As always Patagonia lead the industry in transparency and traceability showing their factory (Vietnam), fabric (recycled polyester with a DWR) and mill (Japan) clearly on their site. Great if you're an avid climber or camper but I wouldn't recommend these to most people. These are specific.
Beloved Canadian sweats maker Reigning Champ knows how to make a good sweatpant. Their signature Reigning Champ Midweight Terry Sweatpant comes in a multitude of styles and colours. There's both a regular and slim variant. The regular fits pretty tight so I'd definitely recommend that over the slim. The 100% cotton pants are made in Vancouver and pre-shrunk, a nice touch to ensure they won't warp on you when washing. The conspicuous brand tag was a little off-putting to me and I'd prefer a looser fit but if those don't bother you these are great.
The Russell Athletic Dri-Power Closed Bottom Fleece Sweatpants left a terrible first impression. They have a coarse 50/50 poly cotton mix, rock-bottom price, an incredibly simple construction and no pockets. Even if they've long-since moved manufacturing outside of the US to Honduras and El Salvador, the hundred-year-old Kentucky firm still has some charm. The simple construction was really an asset as they fit very comfortably and the slight brush-back interior is soft against the skin. They redeemed themselves as pants to wear around the house or sleep in but you can't really wear these outside and be taken seriously. Relegated to sick days and PJs.
Sunspel provided a pair of their Men's Cotton Loopback Track Pant for review. Lady White Co provided a press discount, which was used to purchase their Sweatpants. All other items were purchased at retail.