Freddie Kemp
From a Saville Row cutting room to styling for film & TV
Freddie Kemp is a London-based stylist and costume designer for film and television with 10 years experience helming major campaigns for brands like H&M, Lovers FC and Wax London. He's spent a lot of his life around clothes, and like a lot of Typical Contents readers, he's a bit of an obsessive about the quality and details that go into making them. We caught up with him at the close of Summer over email.
You worked on Savile Row for a few years when you were younger, briefly as a cutter and then on the sales floor at places like Gieves & Hawkes. What did it teach you about quality or style?
It taught me a huge amount about the importance of fit and shape. With menswear in particular we all wear jeans, t‑shirts, shirts etc. Those that are best dressed typically put the work into these core categories, keeping it simple in terms of details, patterns etc and focus on the fit of the garment and how the shape compliments their body. A tailored, personalised fit will always trump trends.
Totally agree. In that vein, what are the everyday clothes you get the most use out of? I'm talking t‑shirts, jeans, trainers. What are the staples?
It's taken a while to find the right ones, there's been a lot of trial and error but I feel like I'm finally getting there.

T‑shirt: Sunspel short sleeve cotton mock neck in white. Talking every day style, it's rare you won't see me in one of these. The high neckline offers a visually interesting detail when worn stand alone, but also gives a much cleaner look when layered under knitwear or jackets. Also the quality of fabric here is exceptional. Really light & comfortable.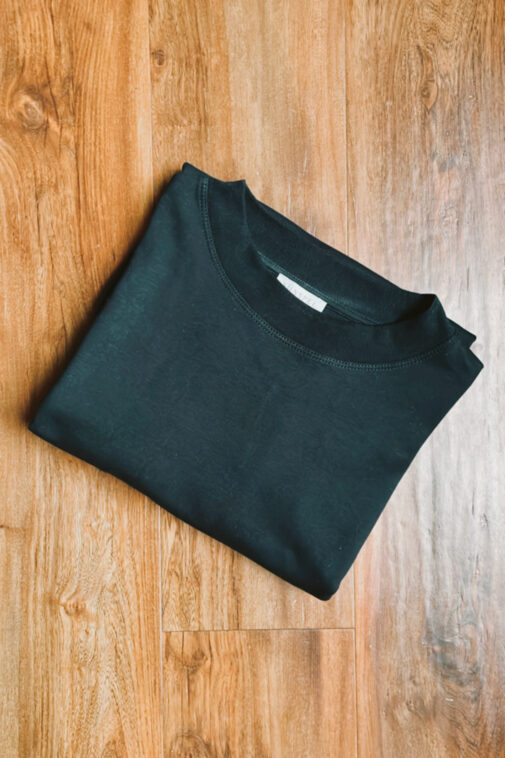 Favourite T-Shirt
Sunspel
Short Sleeve Cotton Mock Neck
A light, comfortable, quality tee made of exceptional fabric. Its high neckline adds an interesting detail stand-alone or when layering.
*Note when we met up to photograph Freddie he was wearing a new t‑shirt design from his long term clients Wax London, a new personal favourite.
Jeans: I have a few that I really love. The Edwin X MHL pair Luke (of Typical Contents) gave me need a mention, but my go-to is the APC Martin jean. Really loose fits, especially with denim aren't my thing so the straight leg on these is perfect. It's a silhouette that'll stand the test of time. But the deciding factor is the higher rise. I'm slightly longer in the torso than I am in the leg so I like to counter this by wearing high waisted trousers and tucking my t‑shirts in. Not easy to find in jeans but these are spot on. I've gone for a strong mid-blue for a preppy feel.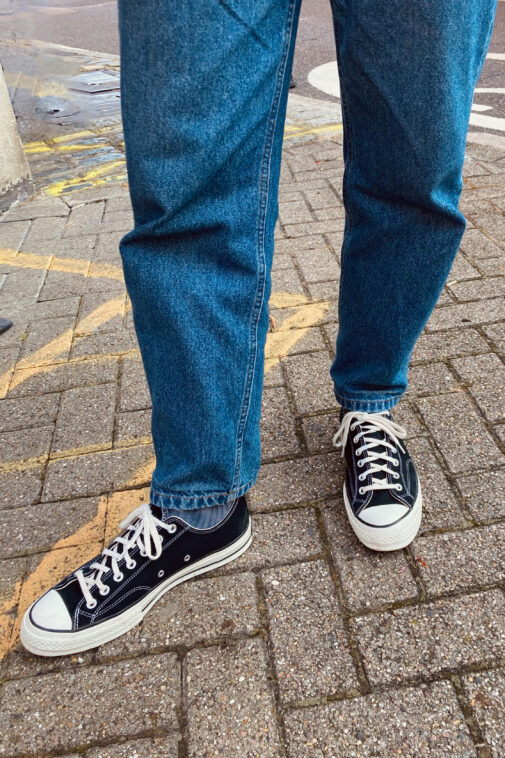 Go-To Jeans
APC
Martin Jean
A straight-leg, mid-blue jean with a high-rise silhouette that'll stand the test of time.
Shoes: I have a bit of a formula to my dressing now. If I'm opting for jeans + white t‑shirt it's my G.H. Bass black pebble grain pennies. But if it's a more tailored trouser either black hi-top Converse or New Balance 327s.
Cap: I also need to shout out ALD for the shape of their headwear. It's not often I'm without a cap on now and the Aime Leon Dore Navy Satin Floral A cap is my No.1 and helps subvert the preppy-ness of my current uniform. So yeah — cap, plain white mock neck tee, mid-blue jeans and black loafers.
Let's talk about that trial and error that led to these favourites. What was your worst investment, something that just sat languishing in your closet and how did it get there?
Less of an investment and more of a stupid impulse buy. I was 18 and moving to the states for work. I'd seen this Coca Cola print D&G knit in GQ and said to myself on a final shopping trip before leaving, if they have this I'm getting it. No questions! A reward for getting the job. God this is embarrassing even to write. Anyway they must have seen me coming because there it was. I grabbed it and put it straight on the till without even trying it on. And of course without really looking at the price. Pretending this was the kind of life I lead I handed over the money and was filled with guilt and zero joy. The first 6 months I spent in the states there was no occasion to wear it. I wasn't even legally old enough to go out! So when I finally came home to see family and friends, I sported it on a night out to Vodka Revs (fuck sake). I was out in the smoking area and unbeknown to me someone stood close had burnt a cigarette-shaped hole straight through the middle of the jumper. I still have the jumper as a reminder to not be so frivolous.
Truly lame. Inversely, what would you consider your best investment purchase? The one you had to save up for that paid off.
It's got to be the A Kind Of Guise Shinji Blazer in desert check. Those who know me, know how much I love this brand. I actually bought this jacket and matching Samurai Trousers to be my wedding suit. Sadly we've had to push the big day back and knowing what I'm like I decided, rather than keep it bagged up in the wardrobe, I'm going to incorporate them into my summer wardrobe. There's no way I could wait another 10 months to wear them. I was actually at a friends wedding this past weekend and wore the jacket for the first time. The shape, fabric, details…all outrageously good. It also works nicely over my staple cap, white t, jeans and loafers combo. In front of the mirror that is. I haven't found the right occasion for that combo yet.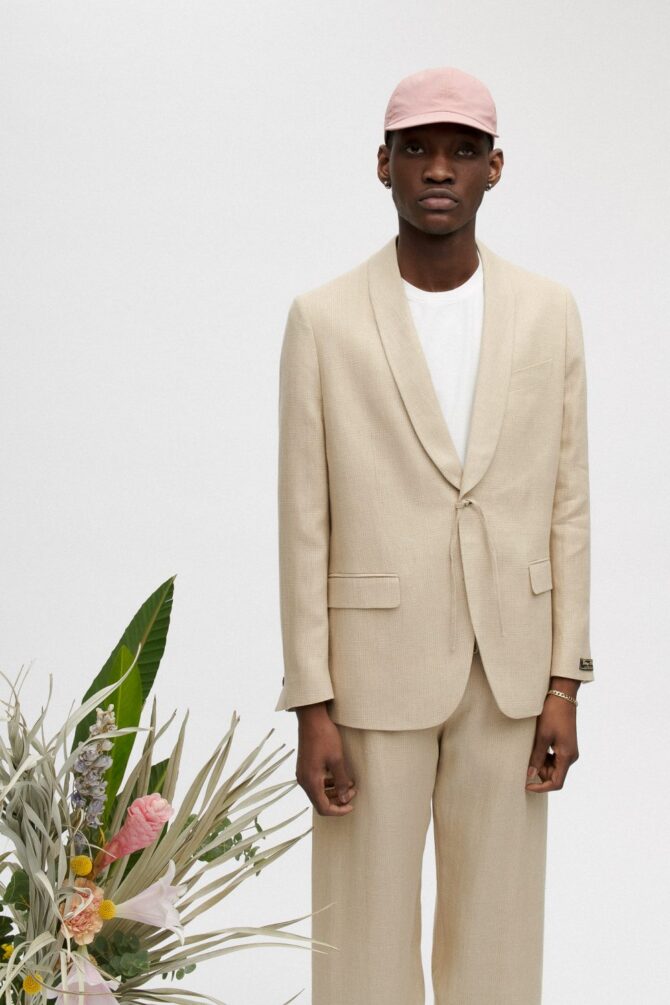 Where do you discover brands like a Kind of Guise? Where do you find your inspiration? Any magazines, inspiring people, instagram accounts or brands that you think are consistently worth checking out?
It sounds clichéd but I try to find inspiration from anywhere. Generally it starts with people who are a bit obsessive in their dedication to their craft. Whether that's a photographer, carpenter, writer or athlete. I'll find someone through reading, visiting exhibitions or through conversation and then go on a journey of digging deeper into their work, and it could be something as simple as a palette of colours I take away into my next project, or they could completely change the way I work. As far as magazines go L'etiquette and Where is the cool? are the only 2 I buy religiously. I may pick up a bunch of others in the build up to a shoot but I tend to feel more confident about my work if my inspiration has been broader than the fashion community.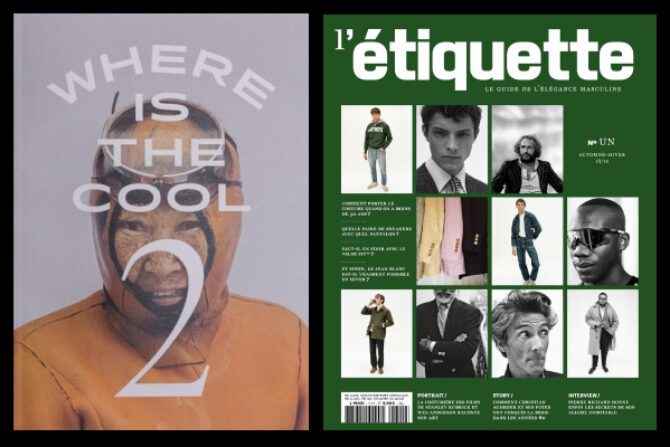 A cliché but a good one. And for our more budget-conscious readers what would you consider your biggest bargain? An item that surprised you with its quality for the price?
A pair of single-pleated chinos from Uniqlo. I must have bought them 5, 6 years ago and still wear them occasionally now. They're seen a lot, but the shape has kept well and I haven't had to do any repair work other than replace a button. Pretty great return for £35.
It always comes back to Uniqlo at Typical Contents. On the other end of the spectrum, is there any item of clothing that you think is overpriced/​overhyped or not worth spending too much on?
Hmm that's tough as we're talking about very personal choices. But if you push me on it, I'd say a lot of sneakers are overhyped. They feed a culture of having something for the sake of showing you have it rather than having a personal connection or attachment to that thing. I've never found a more wearable or versatile sneaker than a black converse. They go with everything!
Finally, Is there anything that you learned about clothes from your experience being a stylist that could be applied to how most people dress?
Stop putting bulky phones and wallets in tight pockets.
You can check out Freddie's recent work on his website and you can follow him on his instagram. Thanks for speaking to us Freddie.