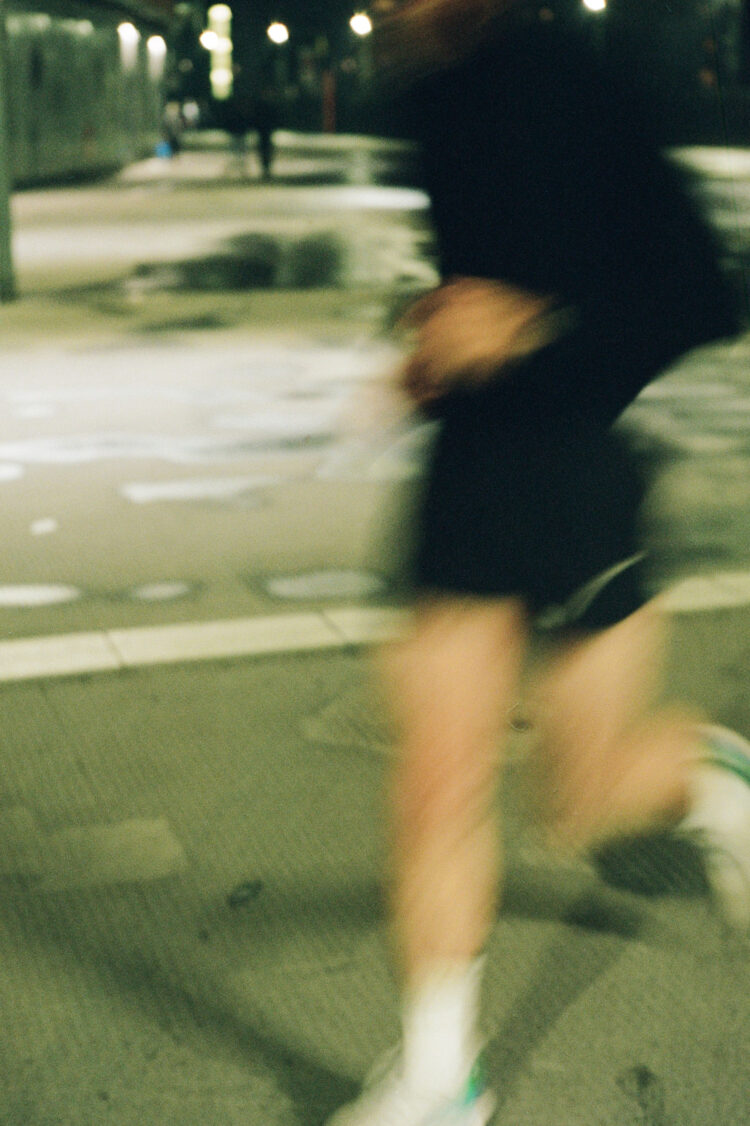 The best running shorts
Running has become a metronome to set my life to when other norms have crumbled around me. I don't think I'm the only one either, I see more and more people out on the roads. Running was always popular but now — for many — it's essential.
Over the last 2 months I've tested 12 pairs of running shorts, clocking up over 250km in them. The Satisfy Long Distance 2.5″ Short are the best. They're the most practical and versatile pair tested, with storage for all a modern runner's necessities. The cheaper Kiprun Light + Men's Running Shorts are a comfortable short that does the basics well but probably doesn't have space to carry everything you want. We also recommend Body Glide anti-chafing balm if you're prone to chafing when running.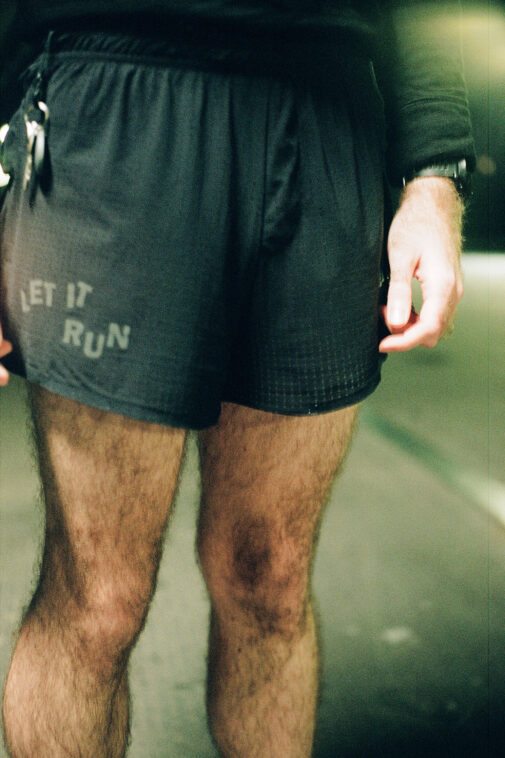 Best overall
Satisfy
Long Distance 2.5" Shorts
A short, lightweight, versatile pair of running shorts with space for a phone, a dedicated mini-carabiner for keys, and space for more. Made in Portugal.
The benchmark for a pair of running shorts is set by Satisfy's Long Distance 2.5″ Shorts. Their length will seem short to many, but offers total freedom of movement and preserves some degree of modesty. The perforated mesh material is lightweight, and the brief liner is comfortable and supportive. The storage is leagues ahead of every other pair of shorts we tested with a mini carabiner built into the waist band to securely hold keys, a dedicated phone pocket on the interior of the back, a secure zip pocket on the exterior of the back, and two small exterior side pockets. They were the only pair of shorts tested that could accommodate our everyday carry of a phone, keys, and a face mask. They're made in Portugal, which is notable as most activewear is manufactured in Asia.
Satisfy is the brainchild of Brice Partouche, a French fashion designer that rose to some prominence in the early ​'00s. Notably he only began running in his 30s, and 3 years into his new found hobby he founded Satisfy. The brand's personality falls somewhere between austere utilitarianism and west coast hippie vibes, refreshing compared to the performance-at-all-costs aggression of most activewear labels.
The sticking point is obviously the price. They were, by far, the most expensive shorts we tested. One piece of advice is to wait for one of Satisfy's twice-a-year flash sales, where deep discounts can be had (sign up to their newsletter on their website to know when they happen). Also consider that these shorts remove the need for a running belt or arm band. Look, I'll admit I balked at the price when I first saw them but I've now bought a second pair. They're that good.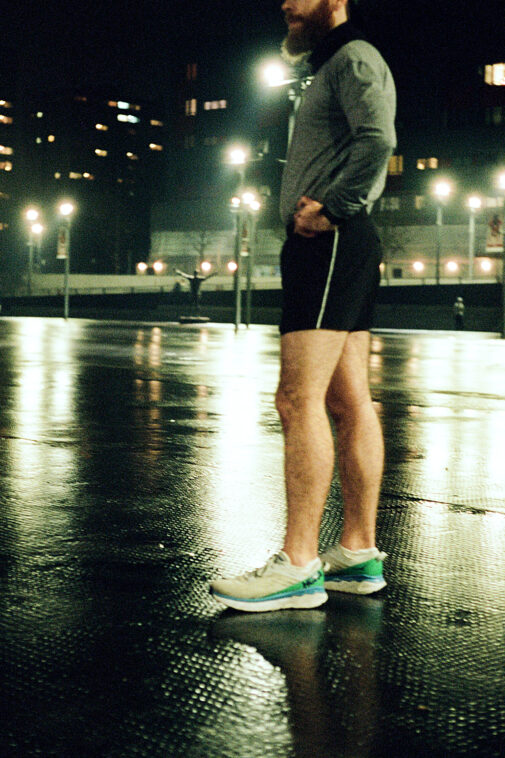 Budget pick
Kiprun
Light + Men's Running Shorts
A basic but comfortable pair of shorts from Decathlon that gets the job done for a bargain price. Nowhere to put a smartphone and questions around Decathlon's ethics might give some pause. Made in China.
The Kiprun Light + Men's Running Shorts come from discount European activewear powerhouse, Decathlon. They are basic but well executed — as well executed as many pairs tested that were 3 or 4 times the price. The Light + have a good fit and length for running (around a 4 inch inseam), a comfortable brief liner, a secure zip pocket at the back for a mask or gel, and a key pocket on the interior. The drawstring was also very comfortable. The shorts come in an understated black with a reflective stripe running down the outside of the leg.
The Kipruns fall down in a couple of areas. Firstly they lack anywhere for storing a phone. Secondly Decathlon have a less than stellar track record in the ethical and transparency departments. Good On You rates Decathlon ​"not good enough", raising issues around lack of environmental initiatives and lack of information around its supply chain and labour practices. The shorts are made in China.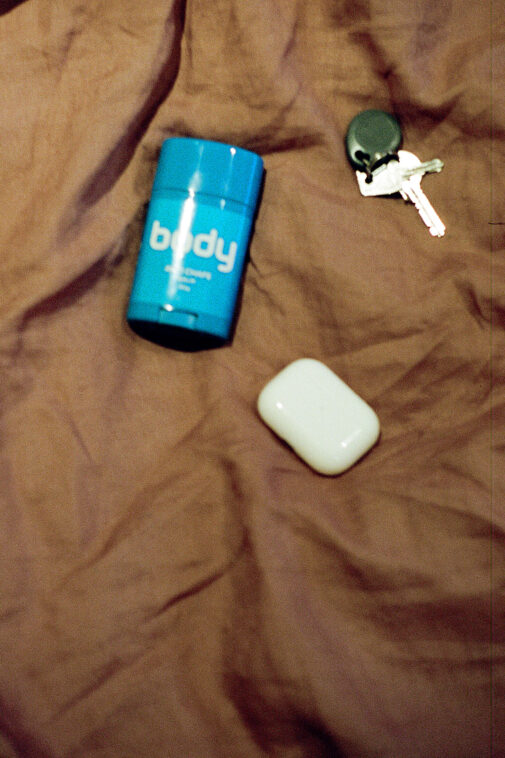 To prevent chafing
Body Glide
Anti Chafe Balm 42g
A simple fix for runners suffering from chafing. Just apply it like a stick of deodorant and you're good to go.
Chafing can be an issue with running shorts, particularly on longer runs. If you've spent any time in an online running community in the last few years, you've probably seen Body Glide mentioned. It's a simple balm that comes in a form similar to a deodorant stick. The balm is applied by rubbing it on areas prone to chafing pre-run. It's not greasy, and after a minute or two you won't notice it's even there. It excels at preventing chafing. I always have a stick of it on hand.
What to look for
Versatility: Suitable for runs of any length from a quick jaunt to a marathon.
Length and cut: Short but not too short: Less than 5 inches, more than 2. This allows freedom of movement and prevents the materials from tugging on your leg when running. Depending on how the leg opening is constructed, shorts can seem longer or shorter than the inseam number would have you believe.
Material: Should be light and quick drying. Most shorts are made from a mix of polyester, elastane, and occasionally nylon.
Liner: Most running shorts come with a kind of built in underwear known as a liner. Liners come in the form of briefs or shorts. Briefs style liners are preferred as shorts style liners have a tendency to ride up the leg and bunch up. Liners should be supportive and comfortable, but mostly they should just stay out of your way.
Origin: Where the shorts are made. Most activewear is made in Asia. Attention was paid to the transparency and factory conditions, leaning on fashion transparency directory Good On You when possible.
Availability: Should be in a permanent collection and available year-round. The pandemic is causing some availability issues due to supply chain problems and also the booming popularity of activewear.
Storage: Shorts should be able to hold the everyday carry of a modern runner. For testing purposes this consisted of a phone, a small set of keys, and a face mask. Pockets should remain secure mid run and contents shouldn't be at risk of falling out.
The competition
Boa's 1" Elite Split Shorts have a cult following among runners. They are a basic and aggressively short pair of shorts. They are not for the faint of heart and are probably too short for most people's tastes. In terms for storage they offer an internal key pocket and nothing else. Having said that they are comfortable, stay out of the way on runs, and are made in the USA. They are also available in a variety of eyebrow raising patterns and colourways. If you want to go fast at the expense of modesty and storage options, these may be for you.
The Brooks Hightail 3" Split Short are a solid pair of basic shorts. They're well priced at £30 and strike a good balance between shortness, freedom of movement, and modesty. They feel longer than their 3 inch inseam would have you believe, and fit large so we'd advise sizing down. Unusually they have a key pocket on the interior at the rear, but they lack any other kind of storage for a mask or phone.
The Iffley Road Pembroke 5" Shorts are the shortest model of shorts offered by the independent British running brand. 5 inches is a little longer than I would have liked, but they were so light feeling that I didn't have any complaints when wearing them on runs. The liner was also lightweight and comfortable. The Pembroke shorts are made in Portugal, which is unusual compared to most other shorts we tested (most come from Asia). The pockets are arranged in an unusual layout with 2 small pockets on the exterior of the front of the shorts which can accommodate keys and a mask securely. Unfortunately this means there is nowhere for a phone to go, which was a disappointment. Overall the Pembroke 5" Shorts have an air of refinement compared to the more technical feeling of most of the other shorts we looked at. Iffley Road have the ability and ingredients of a great pair of shorts, but they just aren't there yet.
The Kalenji Run Dry Men's Running Shorts were by far the cheapest pair we tested, coming in at a minuscule £4.99 ($7.99). Kalenji is a Decathlon running brand, which partially explains the price. What do you get for 5 quid? A surprising amount, but not enough. They fit well enough, and have a key pocket on the interior. However they didn't feel very secure during runs, the material tugged on my legs, and in general they just didn't feel that great. As we mention in our budget pick, Decathlon is rated "not good enough" by Good On You. The shorts are made in Bangladesh.
The Lululemon Fast and Free Short 3" are a nice length of running short, have a decent brief liner, and were fairly light feeling and stayed out of the way when running. The mint green colourway is great. They fit a little on the small side, so we suggest sizing up. Unfortunately they have no space for a phone, the small pocket for keys felt insecure, and the long Lululemon tag goes right between your buttocks when worn. We also thought they were a bit overpriced for being a pair of shorts that was fine but not great. They are allegedly YouTuber Nick Bare's favourite pair of running shorts if you're into that sort of thing.
The Lululemon Surge Short 4" Lined were the only pair of running shorts tested that had a shorts style of liner. In a stroke of genius, Lululemon have added a phone pocket into the right leg of the liner shorts. They also have a secure feeling (but non zipped) pocket on the exterior of the rear. This 4" version of the Surge Short was an appropriate length for running and stayed out of the way. Unfortunately the biggest asset of the shorts, the shorts style liner, was also its major weak point. The liner didn't feel as supportive as either of the top picks, and during runs it rode up the leg and bunched in the groin uncomfortably.
Nike's Flex Stride Future Fast Men's 13cm (approx.) Brief-Lined Running Shorts (what a name!) are a good idea, poorly executed. On paper they tick all the boxes: a secure zip pocket, a phone pocket, and additional small pockets, and a comfortable brief liner. In practice, the phone pocket doesn't fit a phone, and the extra pockets feel like they will jettison anything inside them during a run. They rise on the shorts is low, and made them feel like they were always falling down. Nike does not have a great track record on ethics and transparency (although it has improved slightly), especially when it comes to running.
The Patagonia Men's Strider Pro Running Shorts (5") are a comfortable pair of shorts with decent but not outstanding storage options. The 5 inch inseam is a little on the long side for running shorts but not outrageously so. They have a secure, zipped pocket at the back suitable for keys or a mask or credit card. They also have 2 side pockets for gels or similar, but they were a little insecure in practice. There is no space for a phone unfortunately. They're made in Vietnam, from partially recycled polyester (just the liner though). In the end they're probably overpriced for being just fine.
The Tracksmith Allston Half Tights are, as the name implies, tights and not shorts. They have a wonderful side pocket that can hold a phone and keys. In the end they were a disappointment. Firstly they are a little too long at around 8 inches. The main issue however is that they tended to fall down and bunch up when actually running. Surprisingly I found them not tight enough. Whether this is down to them being too large, or whether they are designed for a not-quite-skin-tight fit to preserve modesty, I'm not sure. They are also relatively expensive.
The Tracksmith Van Cortlandt Shorts are a popular pair of shorts, and it's easy to see why. They're extremely comfortable, and were the most comfortable pair of shorts we tried in all our testing. This is thanks to Tracksmith's 2:09 mesh, a super soft material that makes up the outer and brief liner. Tracksmith's branding is tastefully executed with a small hare patch on the leg and a small striped tag on the back of the waistband. The Van Cortlandts are also very well priced at £48. They're short, but allowed complete freedom of movement. Unfortunately the single, minuscule interior back pocket is too small to fit anything in, and it feels like whatever you store in there could easily fall out. The drawstring kept undoing itself mid run, and eventually started to fall out. These gripes took the Van Cortlandts out of the running for us.