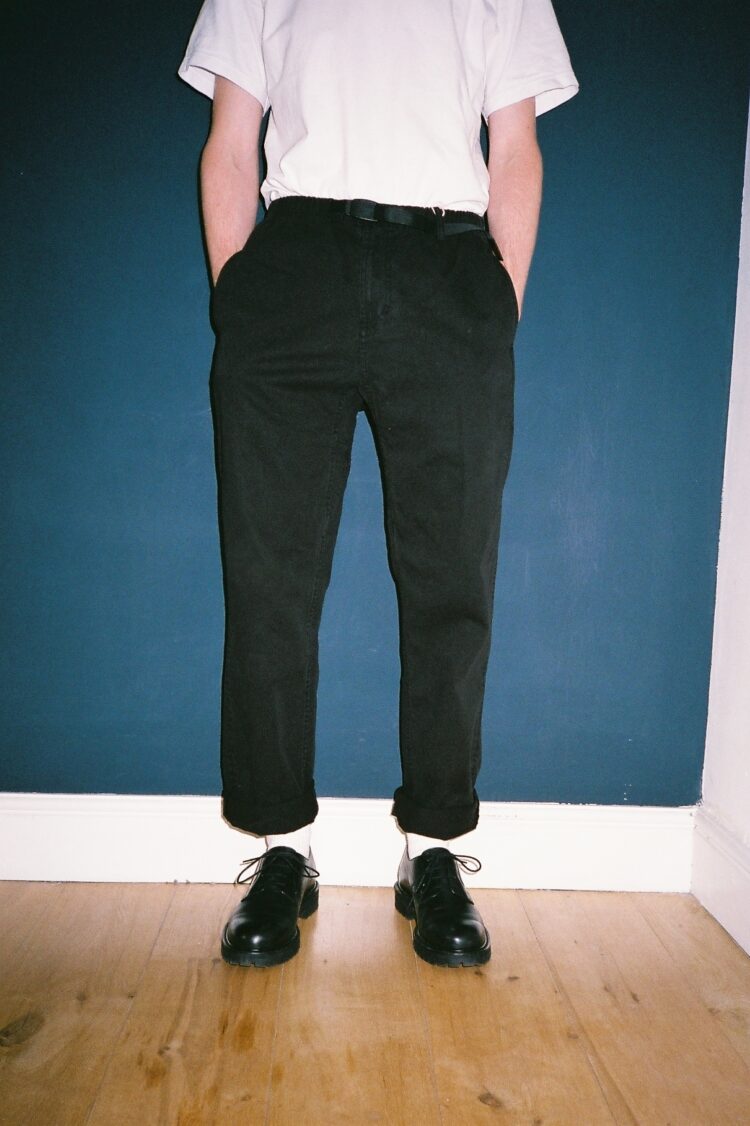 The best relaxed trousers
We find ourselves living in a new normal permanently working from home. This domestic setting means any kind of formal dressing feels stiff. Equally, I don't want to wear sweatpants at all times (the delivery man is getting suspicious). Enter the relaxed trouser.
I tried out 13 different pairs of relaxed slacks over a number of weeks. The Gramicci Gramicci Pants came out on top with their comfortable fit, versatile styling, extensive colourways and functional details. I also like the premium feeling and cosy Albam Ripstop Drawstring Trouser, and the great value of the Community Clothing Men's Cotton Chino.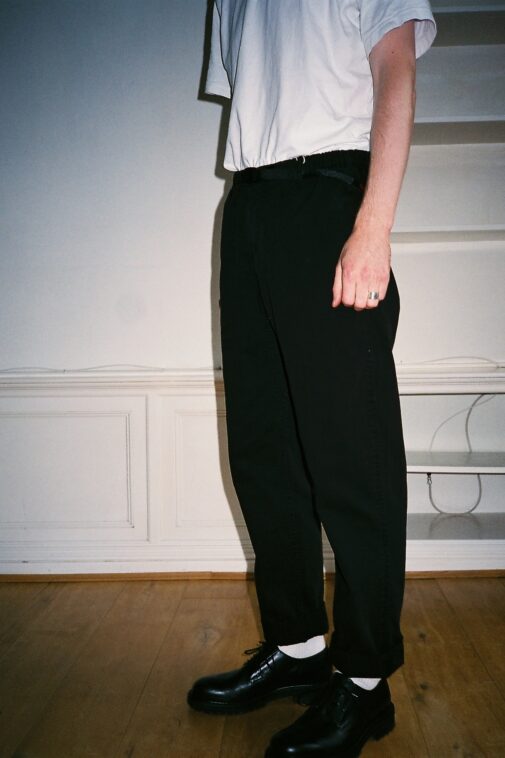 Best Overall
Gramicci
G Pant
A versatile, comfortable, and affordable pair of trousers with a diamond gusseted crotch, and built in nylon belt. Its understated look and traditional cotton twill fabric belies is outdoor Japanese lineage.
Gramicci was a brand started in the early ​'80s by a young climber named Mike Graham — the name was an Italian spin on his surname. Their early products were a pair of shorts and pants with some unique features, notably a diamond shaped crotch gusset to allow for movement, and a built in nylon belt for tightening or loosening the waist. It was a brilliant and widely copied innovation, and most outdoors companies have had a stab at it, but the Gramicci G‑Pant is the original and it remains a great pant.
Like any great piece of work or sportswear, the G‑Pant has the edge of being designed for function and feels both solidly built and extremely comfortable. It also comes in a dizzying array of colours and variants due to its rebirth as a Japanese based clothing brand rather than the more functional and anti-fashion approach of a traditional outdoors brand. The pricing is reasonable at £75 pounds a pair and it's widely available in a huge range of colours and fabrics.
What I love most about it is its flexibility. The fabric is a fairly traditional twill so you can wear it like you would a smart pair of chinos but the nylon belted waist is and gusset crotch means it has the utility and comfort of a pair of sweats, and the minimal technical details means it's just as good paired with a contemporary trainer and oversized sweatshirt. In fact, I wish I'd known about these when I was a 16 year old skater as I would gone crazy over the tapered/​relaxed fit and comfortable, worn in fabric. It beats the hell out of the insanely stiff Dickies or Carhartts that we were wearing.
Downsides
My only issues in terms of the product itself was sizing. Presumably because they serve primarily the Japanese market, the G‑Pants come up small and I would definitely size up if you're in between sizes.
In transparency terms I could also find nothing to help me figure out the brands environmental or production credentials. This isn't uncommon for a Japanese brand unfortunately, but it would be nice to see some basic information for customers attempting to make an ethics driven purchase.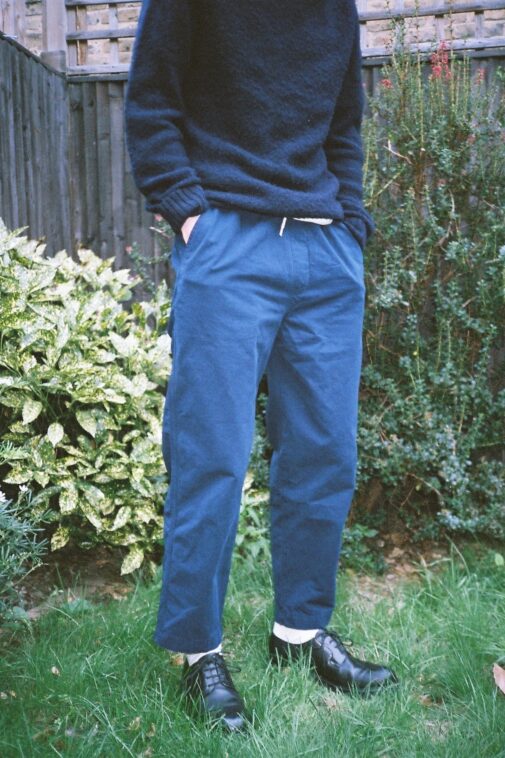 Also good
Albam
Ripstop Drawstring Trouser
A premium feeling and supremely comfortable pair of pants available in some beautiful colourways. A visible drawstring detracts from an otherwise great garment.
The Albam Ripstop Drawstring Trouser has a fantastic loose, tapered fit with a premium feeling washed ripstop fabric (the sort of gridded fabric used for some military garments). With a small crop and and easy waist, I felt like I was wearing a pair of pyjamas. It was also on the more affordable end of the premium market at just under £100. That extra money buys you a notably better finish than the top pick, the Gramicci Pant and European production. The deep indigo blue, forest green and pastel shade colourways are also genuinely unique.
The big downside for me was the visible drawstring in a contrasting ecru, which gave the trousers a slightly crunchy/​hippieish look that was at odds with the finish and shape. I think they were going for 70s sportswear. I can't help but wish they'd gone for a more technical drawstring or kept it internal for a cleaner finish. The latest versions of the style by the brand have done exactly this and I look forward to trying them out, especially in the wool fabrics of their AW20 collection.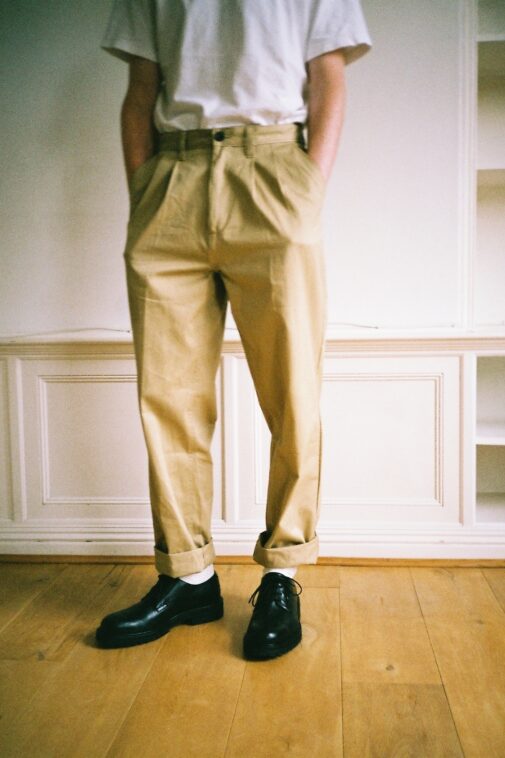 Budget Pick
Community Clothing
Men's Cotton Chino
A shockingly good price nets a very high quality and sharp looking pair of trousers. Made in UK heritage mill Brisbane Moss but the nature of Community Clothing means availability can be an issue.
This is a great trouser, at an incredible price. £59 gets you a product made in the UK, in a quality British cotton drill, from heritage UK mill Brisbane Moss. It feels like something you could easily sell for twice the price. The fit is fantastic, with deep, flattering pleats, a loose shape, and a gentle taper from the knee.
What I love is the versatility of it. If your style leans classic, it would look great with a shirt tucked in or a piece of lightweight knitwear and some leather boots or derbies. If you're more contemporary or streetwear orientated, with the cuff rolled up and pair of vans or converse and an oversized t‑shirt, you've got the perfect pair of kick around trousers. They also don't have a drawstring so they are probably the easiest to smarten up of our top picks.
The downside? Well, basically they are hard to get. The brand produces them in 3 colour-ways (olive green, navy and a light tan which we tested) but they only make them when there is downtime in their factory — the brand is part of an initiative by designer Patrick Grant to keep factories operating between fashion collections. This and disruption from the coronavirus pandemic means that they've only been available in a very limited run of colours since the beginning of our review period, several months ago. Representatives of Community Clothing say that the sizes will be restocked soon.
Basically, if you can get ahold of them, these are great value for money and were a strong contender for our top pick.
What to look for
Availability: We wanted to make sure that I could find something that would be available year round.
Range of colours: We wanted a trouser that was available in a decent range of neutral colours, in order to work as a wardrobe staple.
Fabric: For our relaxed trouser, fabric was key. How it held up to being worn around the house and how it felt sitting long hours at a desk was essential. This meant primarily cotton in hardwearing qualities like twill and drill. These had to be easy to wear, clean and ideally get better with age.
Fit: Relaxed essentially, but what does that mean? Well in practice we tried everything from cropped and tapered high waisted trousers to pleated, drawstring and hybrids of both in our hunt for the most comfortable WFH fit. The fits would mostly be somewhere between straight and an easy taper.
Versatility: We wanted a trouser that could do smart in a pinch but didn't seem stiff when paired with a sweatshirt or a hoody.
Easy Care: The best pair of relaxed trousers had to be ones we were comfortable getting dirty in, whether cooking, putting out the trash or doing basic DIY, we didn't want them to feel precious.
Price: We figured that to be a staple you had to be able to afford multiple pairs. The price should probably sit somewhere between £50-£150 max.
The competition
The Studio Nicholson Bill Pant is a premium take on a straight leg work pant, and at £220 topped out our selection of trousers. You could feel the quality in the fabric, finish and moleskin-like brushed fabric, but the high waist tends to dig in a little if you sit in them for a long stretch and the fabric is a bit on the fussy side for an everyday trouser.
I was excited by the Garbstore Work Easy Pant. The brands AW20 collection has some ace looking fabrics and this drawstring work pant in a Japanese cordura fabric looked really interesting. The finishing and quality of the trouser were good but I'm not sure they justified the price tag and fit-wise they came up surprisingly tight/slim for this kind of style. Expensive for what it is.
The Oliver Spencer Judo Pant is a mainstay of the brand. They are well made in a brushed organic cotton, and manufactured ethically in Portugal. They almost made it as a top pick and I was really torn over including it alongside the Albam pant. But with a more tailored appearance and high waist it felt a bit too neat for this category and £50 more expensive than the Albam style.
The Oliver Spencer Workers Trouser are similarly well made as their Judo Pant brothers, but were a bit of a disappointment. In the words of my wife "it isn't sure what it wants to be" and I think that's about right. It has a military style cargo pocket, loose straight leg and drawstring waist which are in theory great but feel like a lot going on when you are wearing them.
The Universal Works Baker Pant is a long running style by the brand and I was really happy with them. A smart drill fabric, high waist and loose curved hem meant that they felt much more like a tailored trouser than a casual chino. That said they are great quality for the price and a good option if your looking for a smarter relaxed trouser.
The Entireworld Cotton Pleated Trouser (Type B, Version 2) was a disappointment from a brand I really love in theory. The fit was surprisingly slim for pleated pants, and I'm not sure the welted pockets on the front or flaps on the back pockets really worked with this kind of style. I was fan of the almost oxford style Japanese fabric that the trouser was made of but on the whole it felt like a timid take on a pleated trouser. If you're still in slim styles and are looking to branch out this might be a gateway style for you but I can't help but wish they'd been a bit more daring with it.
The Stan Ray OG Painter Pant is exactly that, a faithful take on the US workwear style, done in a coarse off-white raw cotton material and made to last with triple stitched seams. It felt authentic, stiff and not particularly comfortable. I really like how it draped through the leg. I would 100% size up on this style and it took time to break in. Cool but at £80 feels steep for such a basic utility garment.
Filippa K's Toby Trouser is their minimal Scandinavian take on the relaxed trouser and I really really liked it. It was made of a nice mid-weight twill in a wolf grey colourway. The neat flat front with a fly is a nice touch on a drawstring trouser and it felt like a versatile item. It's especially good value at £65 and the brand has some great sustainability credibility, showing the factories that each garment was produced in.
The Dickies 874 Work Pant is the original workwear trouser and…well it feels like it. I can't believe I used to skate in these, they are so coarse and stiff to break in, and admittedly they feel great once you get there (though the stain proof fabric is pretty damn sweaty). They also feel indestructible and are pretty affordable at around £40 but I'm too old to have pants this uncomfortable. They also come up small with a high waist, so size up if unsure.
The Uniqlo Vintage Chino is the brand's loosest fitting, never out of stock item and it's got a lot going for it. The brand has clearly aimed to get all the details of the classic mid-century American chino right and update them for the contemporary consumer. The fabric, the finishing on the inside of the trouser and details like the ticket pocket were really well executed. Shape wise though, this is more like a slim taper than a truly straight fitting chino and I see it as the perfect trouser for a guy who wants to loosen up but is scared off by pleats and drawstrings. Great value at £35.