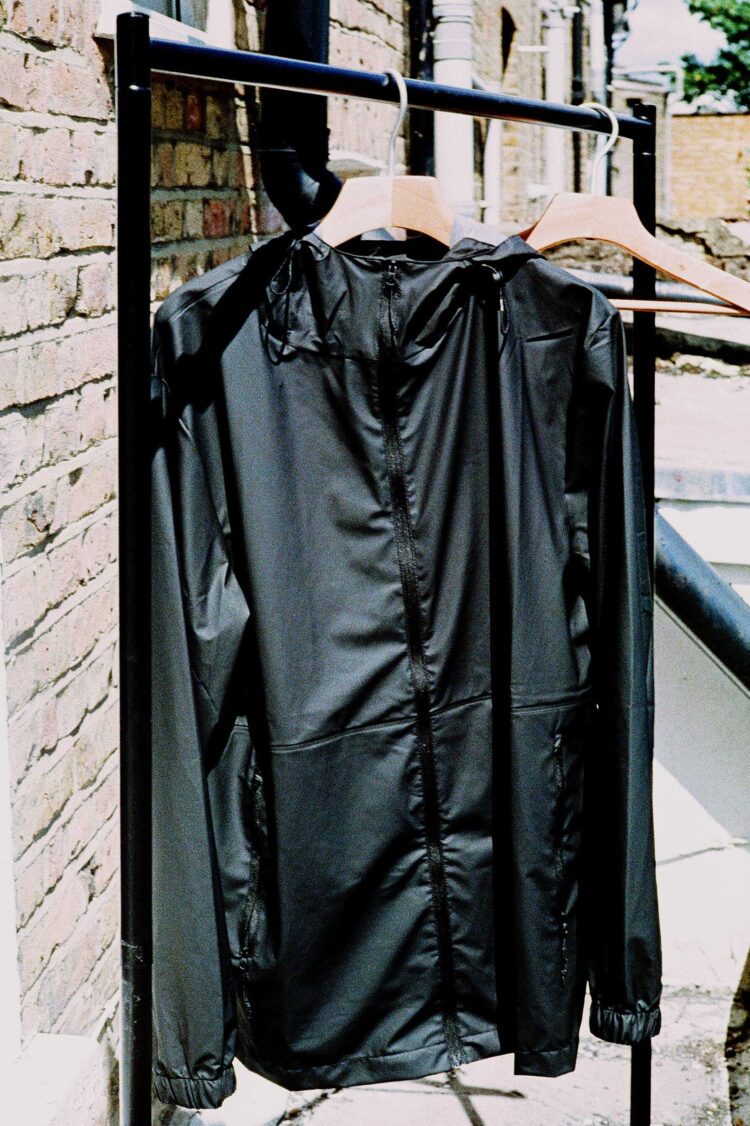 The best rain jacket
It rains in London, a lot. So there is a need for a go anywhere, do everything rain jacket that can live in your rucksack in case of a shower. A traditional mac or parka works if you know you can expect bad weather but if you're going for a hike or need to run to the shops while it's pissing rain, a casual zip up rain jacket is your best bet. Like the best camera, the best rain jacket is the one you have with you.
After researching the best mens rain jackets and testing seven leading brands we think the best go anywhere, do anything rain jacket is Norse Project's Fyn Shell. Lightweight, water and windproof while being surprisingly breathable the Fyn Shell has the impressive technical features that you'd expect of a high-end outdoors jacket but goes above and beyond with its sleekly futurist design details and quality construction. Pricey but worthwhile. If weight, packability and a pricetag under £100 are your main concern our runner up, the RAINS Ultralight Jacket, is also an excellent jacket to have ready-to-go in your bag. Finally, if you're on a budget you can't do better for the money than Uniqlo's BLOCKTECH Parka.
More than any other category we've reviewed, you get what you pay for with rain coats. The trade off with any fully wind and waterproof jacket is price. You could put on a garbage bag and be totally waterproof but your sweat would pool on the inside. The magic of GORE-TEX and similar membrane fabrics is they're waterproof and breathable — this comes at a premium. We figured for our testing that the coat didn't necessarily need to tolerate more than an hour or so of hard rain as a city jacket, but it would be a bonus if it could double as a light hiking/​outdoors jacket too.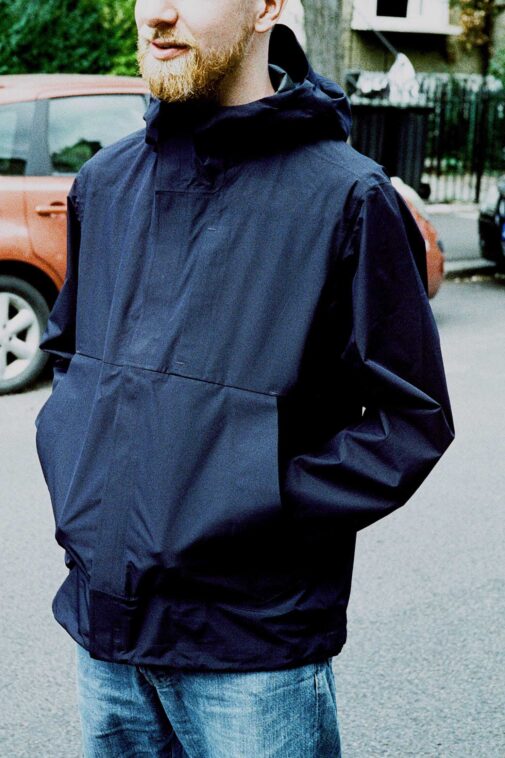 Best Overall
Norse Projects
Fyn Shell GORE-TEX 2.0
Lightweight, water and windproof while being surprisingly breathable the Fyn Shell has the impressive technical features that you'd expect of a high-end outdoors jacket but goes above and beyond with its sleekly futurist design details and quality construction. Pricey but worthwhile.
It's hard to sum up what made this jacket stand out so thoroughly from the 7 others I'd reviewed for this article, so maybe I should go with my partner's comment when I first tried it on: ​"of all these jackets, this is the one that actually made your outfit better." That was true, but it wasn't just that it's subtly futuristic design looked better, it felt better too. The fabric was lightweight enough as to be barely noticeable when walking, the texture had an almost moleskin like brushed cotton effect and was nearly silent as I moved, in comparison to the swishy crinkled sounding textures of some of the competitors. The generous Kangaroo style pockets in the front felt so natural and easy to settle into and when I zipped it up I felt fully cocooned and protected from the elements without the somewhat locked in and stifled feeling some other jackets in this category gave me. I also loved the cut of the Fyn Shell, it hangs fairly loosely from the shoulders with plenty of room through the arms and body (in fact especially under the armpits) so you always feel like you have your full range of movement available to you.
Style wise, you can just see the love that went into this design and credit to the people at Norse Projects. It really feels like everything has been thought through and laboured over (in a way that the photography doesn't really do justice to). My partner who trained as a menswear designer was especially taken with the clean, pressed seams and bar tack details on the pockets ​"a technical jacket wet dream basically."

What about the actual function though? Well we decided to get in an expert and asked Jessica Sheil, a raw materials and sustainability specialist who has worked for brands like Arcteryx and Lululemon to have a look over the Fyn Shell's specs. Her verdict was positive, with Jess reckoning it had all the high-end wind and water protection you'd expect from a modern GORE-TEX jacket and noted the environmental credentials of it's water-repellant coating. Many jackets have DWR's which are essentially the chemical treatments that make water bead up and brush easily from their fabric. Unfortunately, some of these are especially hazardous to the outdoor environment. PFCec free DWR's on the other hand are treatments with similar water repellency that don't harm the environment, although they do suffer slightly in performance when it comes to oil repellency around cuffs and collars. We're willing to sacrifice a little performance for the environment so thought this was a nice touch.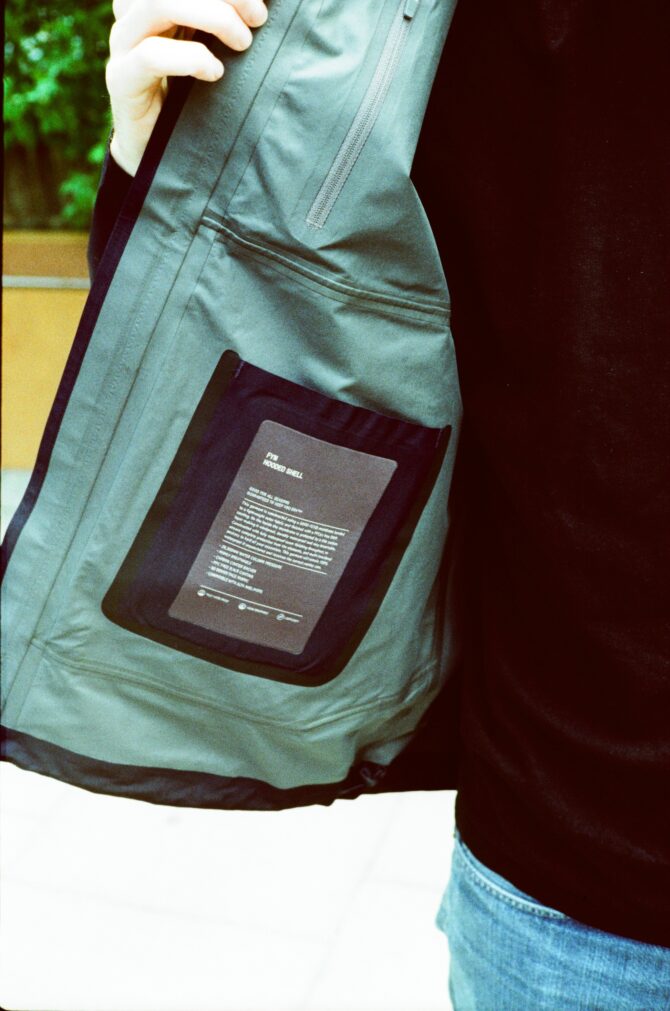 Then there are the pockets. Oh god, the pockets. 8 pockets! It's got your kangaroo pockets, it's got your forward facing zip pocket on the breast, it's got your sealed pockets with no topstitching to easily slide your phone or wallet into on the inside hip, it's got the three internal zip pockets for anything else you need to squirrel away. This jacket is a pocket utility dream and blows everything else I tested out of the water. While it wasn't the lightest of our raincoats, I found it folded up into the hood to comfortably fit into the bottom third of my 16L rucksack.
The cuffs were an elegant single snap to tighten the sleeves, which if you are used to velcro or elastic might be annoyingly un-customisable but I found perfectly comfortable. I also liked that there was the option to pair the jacket with their Otto light primaloft liner to make it a properly year round jacket, and the fit left plenty of room for layering. Finally, I found myself happiest with the hood peak of all our tested jackets, it was rigid enough to hold its shape when folded out and provided decent visibility while keeping the rain from my face.
Downsides
So, what are the downsides? Well at £530 this was the most expensive of all the piece I reviewed for this article, and thats to be expected. From my experience in the industry outerwear is just one of those categories in which you get what you pay for on the whole, especially when it comes to high-end technical fabrications like those made from GORE-TEX. On the other hand, it was a similar price to the purely utilitarian Arcteryx Zeta AR that we also tested but with the additional serious style chops. When it comes down to it, if you're going to pay that kind of money for the fabrication and performance of a jacket in this category, why not have one that looks great too?

What we'd like to see improved
While everything about the jacket itself is near perfect, and nothing stood out to me as being in need of improvement, something like a zip in bag to pack it in when not in use would be a nice touch. The biggest improvement I could think of is actually around the transparency over the production and environmental impact of the jacket. Aside from a product description noting the use of PFCec free DWR there was no information I could find on Norse Projects' site about the environmental or workplace credentials of the company, and although most of their product is produced in Portugal and the US, their GORE-TEX range is produced in China which if you're going on recent information is an ethical minefield. A sub-site like those employed by Asket for their products to show the factories used and the impact of production would go a long way towards giving more ethically-minded customers an informed choice, especially at a premium price point.
Conclusion
As far as I'm concerned, the Norse Project Fyn Shell is the best of it's kind. A near perfect marriage of elegant form and cutting edge function.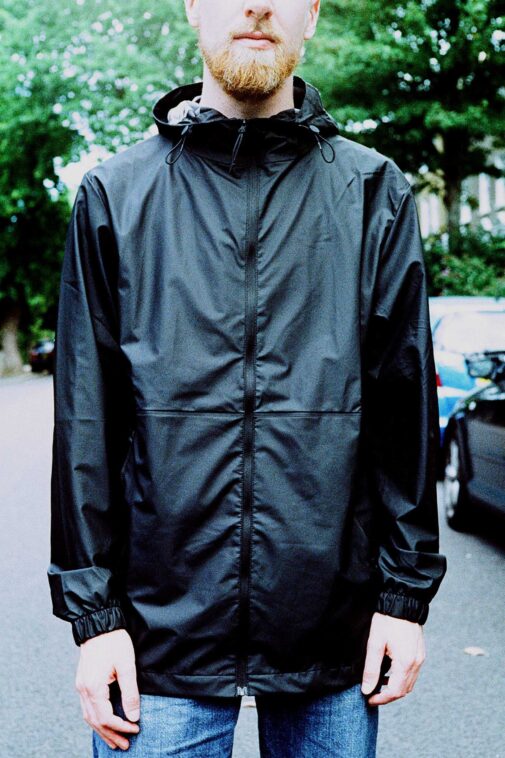 Also good
RAINS
Storm Breaker
For the city commuter who wants a good looking, incredibly light and genuinely waterproof raincoat under £100. The Rains Ultralight is a gem, albeit, one that offers a less breathable and durable fabric than our main pick. Note that Rains slightly changed the model and renamed it to Storm Breaker.
The first impression when I unpacked the RAINS Ultralight Jacket was just awe at the sheer lightness of it, the weight you'd associate with a poplin dress shirt rather than a piece of outerwear. The texture was also much silkier and softer than I was accustomed to with the generally rubbery feeling polyurethene based raincoats that have become popular in the past decade. When worn over a t‑shirt it felt like it was barely there and I enjoyed the slightly loose ​'90s-esque fit with the elasticated cuff and prominent cord locks on the front of the hood. If you're looking for a techy bit of kit that doesn't stray over into cyberpunk nerd territory then this is for you, especially in it's alternative colourways of camel, olive and light grey.
Styling and extreme lightness aside, it also boasts serious weather protection capabilities: rainproof, windproof and surprisingly breathable for a PU based fabric, albeit, with some sadly tiny vents at the armpits. I did feel like taking it off on London's incredibly sweaty tube service. Our expert, Jess, noted the wind and waterproofing were lower than what'd you see in high-end GORE-TEX pieces that you'd get from a brand like Arc'teryx but were still more than a match for city wear.
The jacket is so lightweight that I found it could comfortably fold up to fit into all but the smallest cross-body bags and it would fit into the larger front pocket of a rucksack. So if the best rain jacket is the one you have with you, the RAINS ultralight can quite easily be packed away and forgot about until you find you need it. I also appreciated the welted ziphip pockets, handy for a wallet or a phone.

Downsides
Well it's not really a serious hiking jacket, the fabric is so lightweight that I imagine durability could be a problem with a heavy rucksack. It's definitely more on the casual end of the styles we tested. I also found that while the hood covered my head snugly the lack of brim meant rain still got into my eyes and face, not the kind of thing you want to wear for hours at a time in a downpour.

Conclusion
The reality is most people don't need a top of the line jacket to keep the rain and the wind out, especially the casual urban commuter. You need something lightweight to pack when out for a walk with friends or to head into work. You'll be thankful for how little space the RAINS Ultralight takes up in a rucksack. At £85 it's also a bargain, only slightly more expensive than our budget pick with better weather proofing credentials and a lighter weight.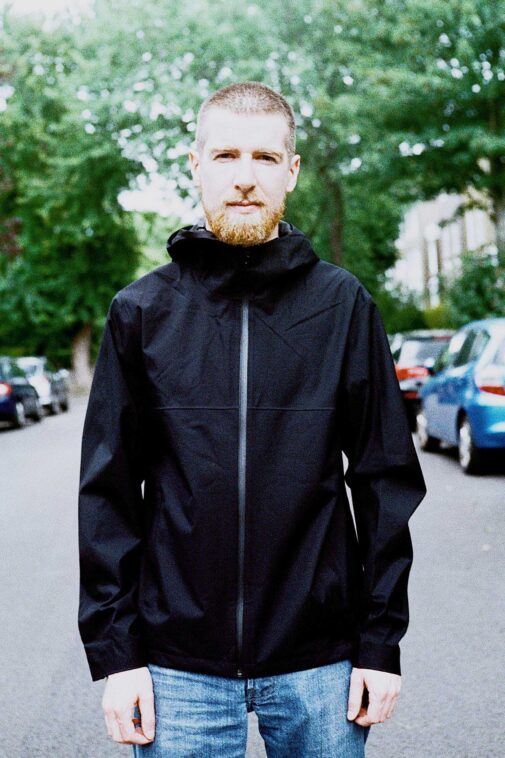 Budget Pick
Uniqlo
BLOCKTECH Parka
Uniqlo have come through with a brilliant all-rounder raincoat at a great price. Looks wise, it compares favourably with our top pick, the trade off is a jacket that doesn't have the same level of technical performance but does well under commuter conditions.
Uniqlo has become something of a running joke among the Typical Contents team for how often it comes up as the best budget pick in our reviews, but really its no surprise. It's a huge company with a massive team lead by respected designers like Rebekka Bay and Christophe Lemaire. They put all their efforts towards making the best quality affordable basics on the market and not spending much time on the sort of trend-led pieces that their fast-fashion peers thrive on. On it's own merits the brand is aggressively uncool and basic, only as stylish as the customer can make it — though the brands lifewear magazine, led by Japanese publishing legend Takahiro Kinoshita, has shown the possibilities. There are even amusing guides to ​"look rich wearing only Uniqlo" which I think speaks to what this brand does so well.
Which brings us to the BLOCKTECH parka. As I expected from Uniqlo this is a really good jacket for the money. When I first tried it on my partner even thought I'd gotten back into the Norse Fyn as they shared similar sleek lines and matte, soft-touch fabric. There is a chance that this is even a dupe of the Norse jacket, but whatever the lineage it's a great looking functional rain jacket at a suprisingly low price. If you're looking for a casual rain jacket for occasional use and have a sub £100 budget you could do a lot worse.
Our expert, Jess, noted that the BLOCKTECH parka didn't meet the legal definitions of waterproof but it held up well under our testing in light showers and under an actual shower. During my research I'd also seen it sited on hiking blogs as being a good budget alternative to higher-end outdoors jackets. There were comments about wet-out over time though this isn't so much of a concern for commuters.
So as usual with Uniqlo, it doesn't have quite the wow factor of our other top choices, either from a design or performance perspective, but for the money you probably couldn't do better and I think the brand itself would say: that's the point.
Why you should trust us
I'm a professional stylist, working in menswear and based in London. I work on both editorial and e‑commerce shoots and generally spend my time surrounded by racks of clothing. I've also written extensively about the history of clothing and style at the now defunct epochs​.co and worked previously in fashion retail and visual merchandising.
All clothing was purchased retail* and no gifts or discounts and no preferential treatment was given. I've no professional connections with any of the brands we reviewed.
*Arc'teryx were good enough to send us a press sample for review, no favourable treatment or promise of coverage was offered.
How we tested
Researching began online. I checked professional guides, and reviews as well as surveying experts. I hit up our cyclist, runner and outdoors friends for recommendations. I also drew on pieces I had personal experience in and had encountered in my work.
For range I wanted to try different weights and fabrications, largely sticking to more contemporary aesthetics and lighter weights that tended to be synthetic, though I did try a more traditional Stockholm jacket from Stutterheim.
I created a set of criteria that all rain jackets were judged against (see ​"What to look for" below). All purchased jackets were put in rotation for several months and notes taken on first and subsequent wears. I tracked the different pairs, stored notes, and ranked them using a database before finally compiling my findings into this article. We intend to update this page periodically as we try new jackets (keep and eye on our changelog for updates) as there are other jackets we would still like to try.
What to look for
Easy wearability: I wanted a jacket that was easily available in neutral colourways. This might sound small stakes but so much of the outdoors clothing market is dominated by pretty garish coloured and heavily branded items. It was important that this worked with an everyday casual wardrobe and didn't look too much like GORP cosplay.
Portability: As I referenced in my introduction, the best rain jacket is the one you have with you, so having the ability to pack down easily was essential to finding the best everyday rain jacket.
Breathable: There is always a trade off when you're looking at synthetic fabrics designed for keeping wind and rain out and generally it's the breathability of the cloth. Technology has come a long way though and in our top picks we felt the balance between protection and breathability was met.
Hood: I wanted a hood that offered total protection, ideally with a rigid visor to protect from rainfall without too much loss of visibility. I also rated how adjustable the top picks were both with back and front toggles.
Environmental and social impact: Outdoor apparel is probably the most sustainable segment of the clothing industry but the bar is low and there's still room for improvement with practices like the use of virgin polyester and toxic chemicals. This is changing rapidly with brands like Patagonia at the forefront of the sustainability revolution in clothing but we were conscious of noting what, if anything, the brands are doing to offset their impact on workers and the planet.
Styling: As referenced in our introduction, we're not looking for the best ever outdoors jacket, there are other specialists who can do that better than we can, but we did want to find the best looking jackets that can get the job done. It had to be jackets that we'd actually want to wear, and not just when it's raining.
Elemental protection: While we're focusing on style, we weren't ignoring function. A raincoat that doesn't offer decent protection is just a novelty. We wanted something that wouldn't dissapoint the casual commuter and occasional hiker if they got caught in a downpour, and we think on balance we found them.
Cuffs and collars: We want the cuffs and collars of the rain jackets to be comfortable, adjustable and in the case of the collar to protect the face when the weather takes a turn.
Fit: Nothing too slim or form fitting, this had to be something you could throw over layers and get the most out of throughout the year, but, we also didn't want anything too shapeless or utilitarian looking. It was about finding a balance. Generally, we went for hip length but we appreciated the designs that had slightly more length, not enough to restrict movement but offering a bit more protection from the elements.
Movement: The ideal lightweight rain jacket would cover you for a daily run or cycle as well as on a walk to the bus or train, so it had to allow for movement and not be too stifling. We wanted something that emphasised flexibility over complete coverage.
Fabric: We wanted a fabric that had an organic and soft hand feel, ideally without the crinkling plastic feel of some outerwear synthetics.
The competition
The Arcteryx Zeta AR was probably the most hardcore outdoors jacket that we tried out and we were really impressed by it's performance overall—though I now realise I should have tested their lighter weight LT model. Rain beaded instantly, the hood was generous and the style was on the functional end of things but worked well with a variety of outfits. Downsides were the heavy fabric and a fit on the looser end of things, I'm 5'11 and 150 pounds and the medium was pretty roomy on me, I would probably size down to small next time. This jacket is designed for multi-day treks rather than a cycle into work. It'll appeal to the hardcore hiking fans.
Coming in at a very similar price point to Uniqlo was Muji's Waterproof hooded jacket. It had a similar level of quality and water resistance but it just lacked the refinement and styling of the Uniqlo option. It felt just a little bit more drab and functional and while I think I'd be perfectly happy with it, there was nothing exceptional about it. If you aren't keen on the more futurist aesthetic of Uniqlo's design then this Muji jacket would be a worthy budget alternative.
Patagonia's Torrentshell 3L was one of those jackets that we loved the look of, consistently came up on lists of the best rain jackets and according to our expert also boasts some impressive environmental credentials—no surprise, the company is known for it. So it was with some disappointment that when I received the jacket and unwrapped it for the first try on, the fabric felt cheap. It had a plasticky texture and crinkled and swished more than any other we tested. It was difficult to pack small, the shape was a bit lumpy and characterless. At one point I realised why it felt so off, it reminded me of exactly the sort of jacket I would have had as a child in the early 1990's, the older blends of cotton and polyester that had a similar hand feel. A disappointment.
I've always been a big fan of Stutterheim. Their original heavyweight Stockholm model is an elegant take on the classic mid-century fishermans raincoat and their's was the only model to be produced in Europe. The Stockholm LW seems to be an attempt at taking on Rains at the lighter weight, more affordable end of the rain jacket market and in that sense it suceeds but I felt they failed to do anything interesting with it. The pop buttons are a nice touch, the length was nice sitting halfway down the hip but roomy enough to move in. It looked stylish but it sweat like hell in even light activity and didn't feel particularly functional. A good and fairly lightweight casual rain jacket but not something I could see myself getting excited over.
We also looked at models from K-Way the original pack-a-mac style raincoat from the '70s but I just felt it was a bit redundant at this point and fabric technology had moved on. If your style is a bit more heritage or retro, it could work as a lightweight layer.