The best polo shirt
Polo shirts are possibly the most ubiquitous clothing item of the 21st century, undergoing a long journey from aspirational 1930s sportswear to becoming the default smart-casual option for millions of men. We've researched and tested 14 of the best polo shirts and think that the best polo is the Sunspel Riviera with its great fit, unique fabric and strong range of over twenty colours. If you're looking for an elevated take on the polo then the John Smedley Adrian Polo is incredibly soft and will smarten up your wardrobe. Finally, if you're on a budget the H&M Cotton Polo Shirt is a good quality take on the classic item at an affordable price point.
The original garment as we know it was based on a design worn by French tennis star René Lacoste aka ​"the Crocodile" in the 1930s as a practical, flexible, comfortable sports shirt. Unfortunately, from the 1980s onwards, creeping ​"casual Friday" dress codes made the polo shirt with badly fitting chinos an American business-standard. Later, it was the uniform of golfers and delivery drivers, security guards, and coffee chain staff not to mention the sometime uniform of the American far-right, in almost a parody of conformity.
What saves the polo shirt from fashion irrelevance is its potential for reinvention. Its been reclaimed by subcultures ranging from punks to skinheads and mods. As the tie disappears and the suit becomes increasingly relaxed, the polo shirt has become a place to experiment with shirting alternatives and continues its long tradition of reinvention, molding itself to the zeitgeist. For our review we tried to cover this range, from semi-activewear to knit-fabric classics to find the best polo shirt overall, looking as always at specialists who've produced these styles year after year in an attempt to find an ideal.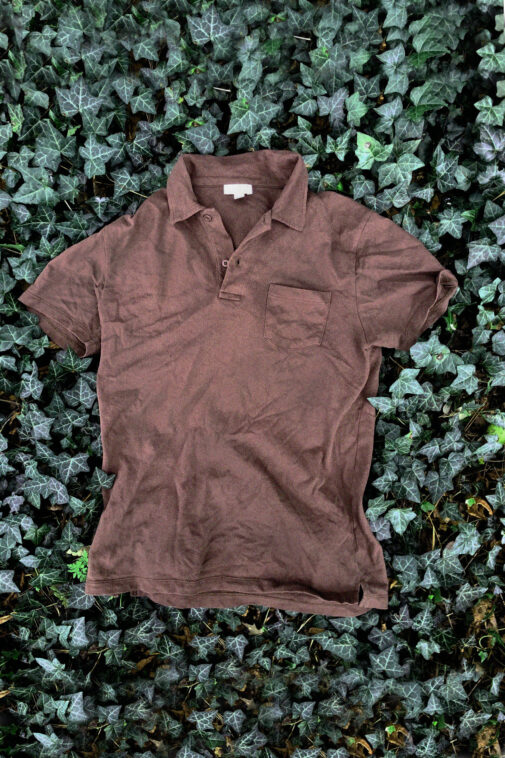 Best Overall
Sunspel
Riviera Polo
With a smart fit, retro-inspired basket weave fabric, and a huge range of tasteful colours, the Riviera is on its way to becoming a contemporary classic.
The Riveria was introduced by Sunspel in 2006 after a design by Linda Hemmings for the James Bond film Casino Royale. The Riviera became something of an instant classic for a brand which up until then had been known largely for its undergarments. The references here (as the name suggests) are much more Talented Mr.Ripley than contemporary sportswear but it doesn't feel like a period piece either. There has been some clever thought put into taking the best of that golden era and updating it.
The fabric has a looser, wider weave than most piqué polos, and a nice spongy texture with none of the coarseness that some piqué can have. After researching I found that the brand created the fabric with a vintage lace making machine in Sunspel's HQ in Nottingham, and none of the competition I tried have a similar quality.
The fit is trim but not overly slim. The sleeves fall flatteringly halfway down the bicep, the length is standard and it has the classic split tail. The sleeves didn't pull up into my armpits and I still had movement through the body. The collar is a fairly small point collar that sits well when buttoned up but also folds down easily into a camp collar shape when undone which allowed it to be worn cleanly both ways. The buttons are a discreet tonal plastic and the placket is a simple 2‑button design. I'm a fan of the pocket design though in a practical sense it's not good for much and makes the shirt much more of a casual style.
Colours are another area where Sunspel gets it just right. They always have a strong seasonal palette which this year covers 20 options including a deep chocolate brown (seen above) an intense Yves Klein blue and a great brick red. Compared to their competitor's depressingly basic ranges of pastels and neons, this quiet tastefulness is refreshing and it means that season to season it will be easy to update your wardrobe with some new additions.
Through washing and wearing over a number of weeks, I noticed no noticeable shrinkage or discolouring and the fabric kept its softness (which wasn't always the case, especially if a garment has been chemically softened). I also kept an eye out for loose threads and buttons but found no faults.
Which brings us to the final question of value. Polo shirts are an interesting category in this sense as they are so tied up to a certain idea of aspirational dressing — and priced accordingly. Our testing found that the general quality and feel of a £10 polo from H&M didn't massively improve when compared to its £80 Lacoste equivalent. But that's to ignore the fact that you are paying for what that £80 polo says about you, what it represents in our culture, and the semiotics of that logo — a francophile or a football causal, a preppy or a punk. That said, if you're like me and the branded polos aren't your niche but you want something that feels premium, then, for the cost, you will have a beautifully fabricated, European-made polo shirt of notably better quality than its competitors in the same price bracket and that's enough for us to award it the top spot.
Downsides
The downsides for the Riviera really come down to preference. I could imagine if you want a more classic fitting polo you may find it too slim or if you want one without a pocket that could turn you off. But as for the construction of the shirt itself or its fabric I couldn't find any faults. Even the plastic buttons which might in other brands seem like a cost-saving measure feels more like a thoughtful design choice. It's also more sportswear-adjacent than actual sportswear, but that feels like a quibble and true of any of the major polo brands at this point.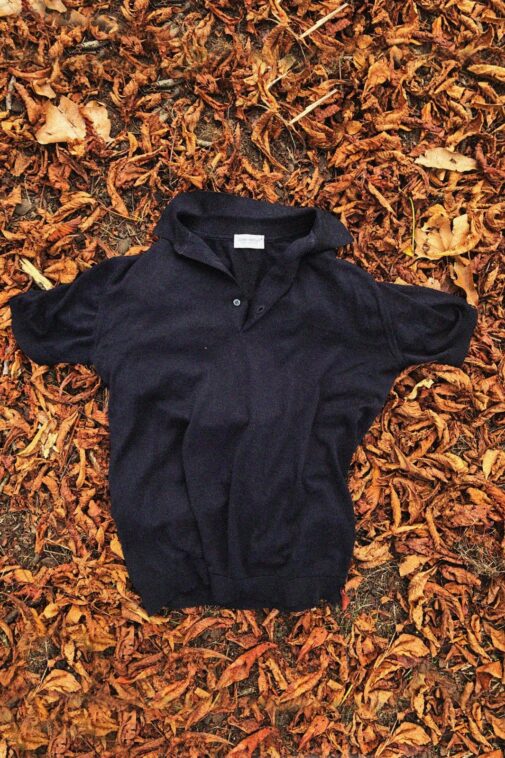 Also Good
John Smedley
Adrian Polo
Made from incredibly soft sea island cotton, this knitted polo is perfect if you want a softer, more formal style of polo.
The Adrian Polo from John Smedley comes a close second to the Sunspel Riviera. The main attraction is the sea island cotton fabric which is incredibly soft with the best hand feel of any polo I reviewed. The placket length and knitted collar means it feels much more like the elegant mid-century polo shirt than something that would be mistaken for a 21st-century corporate uniform, albeit with some nice updates that make it feel more contemporary than other knitted polos.
Smedley is to fine knitwear what Burberry is to trench coats, or John Lobb is to shoes and considered to be the best in the world in the category (it's where the Queen gets her knitwear). The Adrian genuinely felt like a luxury. Everything from the feel of the fabric to the way it fitted just right with substantial ribbing on the waist and sleeves (near the bottom of the bicep) with just the right amount of tension spoke to the care and attention that had gone into making it. It's also versatile, working just as well under the lapels of my suit when I got married a few weeks ago as it did in our 35 degree London heatwave when worn with a pair of shorts although, it is a bit too formal to work with tracksuit bottoms. Out of all the styles I reviewed it felt much more like a smart option.
What the Adrian definitely isn't on the other hand is a piece of grab-and-go sportswear that can be washed and thrown on like a t‑shirt or folded up at the bottom of your bag for destination holiday. I found myself hand-washing the delicate fabric to avoid rips and the collar, though it stands well, needs shaping with an iron after washing. Like a lot of luxury items, it's delicate and requires a bit more care and attention than most and at £145 it's not quite affordable enough to be a staple. That's not saying it's bad value necessarily, you can see the care and attention that was put into it and it's UK manufactured but it's probably not what most people are looking for when it comes to an everyday polo shirt, and those not quite the all-rounder that could hold the top spot. If you're more likely to wear smart trousers than jeans and prefer a knit jumper to a hoodie then this is the polo for you.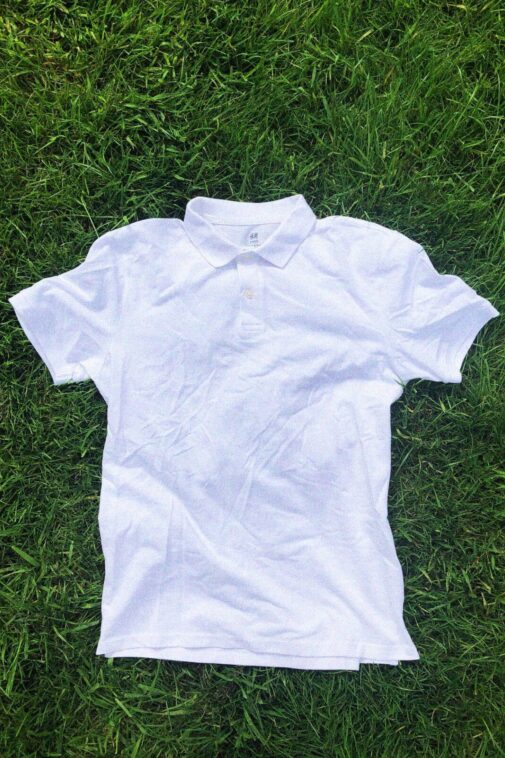 Budget Pick
H&M
Cotton Polo Shirt
A great price paired with good fabrication and quality, the H&M polo offers the best value for money with their straightforward take on the classic polo shirt.
If you're unconcerned with logos and just want a classic polo shirt as a wardrobe staple you could do a lot worse than the H&M Cotton Polo Shirt. The piqué is soft and drapes well, the fit is classic, and straight (though as is often the case with H&M group, a bit long for me). In a blind test, I'm not sure I could tell the difference easily between this polo and the Lacoste L.12 which it's clearly based it's detailing on. And at £9.99 it's extremely good value. Ethical clothing site Good on You's review gives the brand an ​"It's a start" rating for it's environmental and ethical credentials noting that it's environmental record is consistently improving while some issues with it's supply chain labor remain.
What to look for
Range of colours: More than most sportswear, polo shirts are about colour, and we wanted our staple pick to have a good range of quality seasonal colours.
Flexibility: We wanted a Polo that looked good with a range of clothing from the formal to the ultra-casual (a pair of shorts or sweats)
Fabric: Has to work well in the heat, for most people a polo is a summer item and anything too heavy or coarse wasn't going to cut it for us, we tried a range of synthetics and cottons of different qualities.
Fit: Piqué and knitted cotton are unforgiving fabrics so having a good fit is key to making a polo shirt work.
Collar: Does it stand up well, does it look okay when unbuttoned? is it easy to fold down or does it look sloppy.
Length: Long enough to wear tucked in but not long enough to look sloppy on its own.
Sleeves: We wanted the sleeve length to flatter the bicep but not ride up too high into the armpits, we also wanted easy movement as you'd expect from sportswear.
Easy Care: The best polos, like all good sportswear, should be easy to wash and care for.
Aesthetics: We wanted a polo that was more than a billboard for logo's or an anonymous boxy t‑shirt alternative, the best would have a strong aesthetic quality.
The competition
The Fred Perry M12 & M3's are the most solidly constructed of all the branded polos I tried, and I was particularly keen on the thick ribbing on the sleeves and collar and the wide, reinforced placket. The collar had a slightly wider spread than most and which I found more flattering. The fit is trimmer than Lacoste and the hem is square so overall it has a neater, less sporty look. It's also nice that it's been continuously made in the UK since its introduction in the 1950s. The M12's aesthetic with its twin tips on the collar and sleeves have deep roots in the mod, Britpop, punk and skinhead subcultures in the UK and it can be a bit overpowering if you're looking for something more casual, but I love the simplicity of the M3's laurel crest and it has the same fit. Our favourite if you're looking for a logo.
We ordered from Lacoste as they're the originators of the style. The Lacoste L.12.12 is their staple and comes in a huge range of colours. It's hard to judge it fairly as it seems to be the most duped of all polo styles—the Ralph Lauren polo is said to be a copy of their pre-60s model after the designer was disappointed with the synthetic blend polos they produced in the 70s. It has a straight fit, flattering sleeve and fairly flat collar. The fabric is softer than most piques and the split tail is nice but there is nothing particularly stand out, though the mother of pearl buttons are a nice touch. In terms of transparency, they were probably the most disappointing of the branded styles as there was absolutely no place of origin for manufacture, not even a "made in" on their label (though I believe they are produced in Peru).
The Lacoste Paris Polo Shirt is their more contemporary update to the classic style and it features a slightly smaller collar, a bit of elastane in the fabric (6%) and a longer, narrower hidden placket and tonal crocodile patch. It's an interesting update, but if you're going for something so subtle I'm not sure why you wouldn't go for something completely unbranded.
The Ralph Lauren Classic Fit Mesh Polo Shirt was an interesting variant. Its piqué was solid and soft feeling, It had a really thick placket and nice mother of pearl buttons, but it was largely indistinguishable from the Lacoste L.12 and its dupe status makes sense. It has a slightly lower stepped hem and a surpassingly slim fit for a "classic" style. It comes in a huge range of colours (some pretty dubious) and is the most expensive of the branded options we tried, coming in at £85. It's also shorter than most of the polos we tried so could be a good option for smaller guys.
Kent Wang is one of menswear's best-kept secrets and we're a big fan of the Kent Want polo shirt. It splits the difference nicely between the more casual sportswear elements and smarter styles like the Adrian with thick quality pique, mother of pearl buttons and a high spread collar designed to look good under a suit jacket or jumper. If you want something with the formality of the Smedley and the easy-care of a classic polo then this is probably your best option and it has some of the most tasteful colours of any brand we reviewed (as well as a wide range of long sleeve options). It should be noted that the fit is quite slim and it's worth sizing up.
The Uniqlo Airism Jersey Polo is sleek and technical without seeming dorky. It kept me from sticking to the sofa when the heat in London got to a high of 35°C (95°F). It would be the ideal choice for a warm-weather tech enthusiast and looked pretty cool and sleek worn with my black running shorts.
The other Uniqlo style I tried was the Uniqlo DRY PIQUE polo, which I was less of a fan of. It was fine but not particularly interesting fit wise and has a slightly coarse plastic-y feel to the fabric.
I tried ASKET's Pique Polo and while it has the brands great fit range (you can choose the length from small to large) was a disappointment overall. The piqué was soft and mercerized but also the most transparent of all the ones we tested which meant nipples showed through. The collar was strangely floppy and unstructured so looked messy when buttoned up but also had trouble sitting flat when opened and the placket looked visually off centre. As usual with the brand, the environmental and social tracing is excellent and I hope they can perfect the style.
Finally, I also gave the H&M COOLMAX Polo a try and while I might appreciate it if I lived in a much warmer country, the texture just suffered in comparison to the pure cotton pique of their standard polo.