The best plain t‑shirt
Have you ever seen that episode of Mad Men where Don Draper, bleary eyed, hungover and barely slept staggers into his office and pulls out a drawer in his desk to retrieve a stack of crisp white shirts, still in their packaging?
A plain t‑shirt has essentially the same function for me. It's the everyday item I can put on in the morning, almost without thinking, and feel ready to face the day. I work as a fashion stylist and on shoot days, with hectic early mornings and late evenings under studio lighting, it feels essential.
On the face of it, the t‑shirt is the most no-bullshit, who cares piece of clothing you can buy. It's the default everyday item for millions of people and at this point has even become the standard for some office workers (Tech billionaire Mark Zuckerberg supposedly wears the same grey t‑shirt in order to save precious brain power for other more pressing decisions). So why does it matter which one you buy?
I can sympathise with this viewpoint. I encounter a lot of clothing in my work and more than in most categories (denim, footwear, coats for example) the difference between a £5 t‑shirt and £70 is marginal. An affordable good quality cotton t‑shirt that fits well and will last a long time can be easily had for less than £5, and the £70 equivalent isn't honestly that much better, but, if you, like me wear them just about everyday and not just as an under layer than its probably worth getting the best that you can.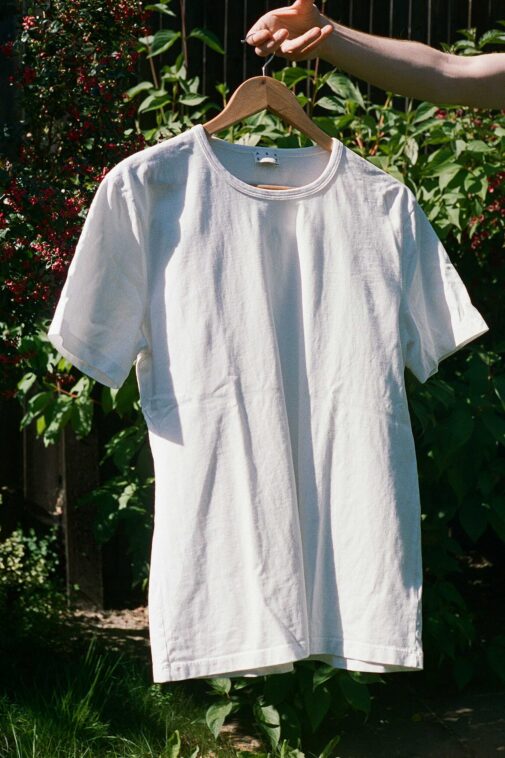 Best overall
Asket
Egyptian Cotton T-Shirt
A substantial (but not heavyweight) tee with good neck fit and arm length, that holds up well in a wash. Combined with three available lengths and a transparent approach to manufacture makes it an easy recommendation for most people.
Swedish direct-to-consumer brand ASKET's egyptian cotton t‑shirt came out on top for us during our testing. I'm generally wary of brands claiming to have the best t‑shirt ever. Best how? What metric are you measuring it by? When I surveyed a group of friends on what made a perfect t‑shirt, the answers were so varied, from neckline to fabric weight to fit, that I'm not sure a perfect t‑shirt exists. What I found with Asket's t‑shirt, is a t‑shirt that I thought satisfied most of this criteria across the board and one I thought would suit the broadest number of men. You can see the work the brand has put into balancing one element against another to create a very good t‑shirt.
The fabric is weighty without feeling too heavy to be worn as an underlayer, it passes the nipple test (my nipples weren't visible through the fabric) and the neckline has a flattering and substantial rib with a slightly 1950s feel. It is a fairly wide neckline so if you prefer a tighter fit it might not be the best option. The sleeves came about 3⁄4 of the way down my bicep and were fairly narrow, but, with a slight flair that made them comfortable. The t‑shirt has three lengths available (short, regular and long) and opted for the regular which came to half-way down my fly and looked good both tucked and untucked (I'm 5'11). The body had a fairly straight fit that was maybe slightly on the narrow side (I wore a medium and I'm fairly slim and it fit me well) The fabric is 180gsm which is on the lower-end of heavyweight, for me the perfect all-rounder weight for a everyday tee.
I was also impressed with the transparency of the brand which extended to a sub site for the t‑shirt factory in Portugal and a price breakdown with the costs of manufacture and the retail mark up. In terms of wash and wear, the ASKET t‑shirt kept it's shape well and the fabric retained it's initial softness, it also kept it's whiteness (washed with standard detergent in an all white wash) and didn't noticibly shrink in a 40 degree wash cycle.
£30 is a lot for a t‑shirt, and quite honestly it's likely more than I would generally spend on one and unfortunately the brand don't currently do multipacks, but, I can see the work that's gone into this t‑shirt to make it flattering for the majority of men. The length options which are a rare option from most brands means this will be especially suitable for taller or smaller guys and for the ethically minded consumer the brands transparency is thorough and well presented.
The t‑shirt also comes with presentation and customer service that feels premium, ordering during the early days of the Covid-19 lockdown I didn't expect the shipping to be normal but the brand made a point of pre-emptively emailing to explain when I could expect the tee, and I found the boxing and labeling to be of a nice scandinavian, minimal quality.

This is a great t‑shirt, with a genuinely premium look and feel and on-balance between cost, quality and transparency. I think it's the best staple t‑shirt you can buy for the most body types and tastes.

What we'd like to see improved
Although I'm impressed by the quality of the product and the transparency of the brand, I couldn't see myself making ASKET my staple t‑shirt at the £30 price tag, at the end of the day even the best t‑shirts wear out and discolour fairly quickly and for an everyday basic thats on the steeper side. A multi-pack option with a discount per t‑shirt would make this a more attractive option for most people. I also understand that with multiple lengths as well as weights that it might be difficult but a few more seasonal colours would be welcome as well as the classic neutrals. Finally the brand has a lighter weight version of the same tee but it would be good to see a heavier weight option as well.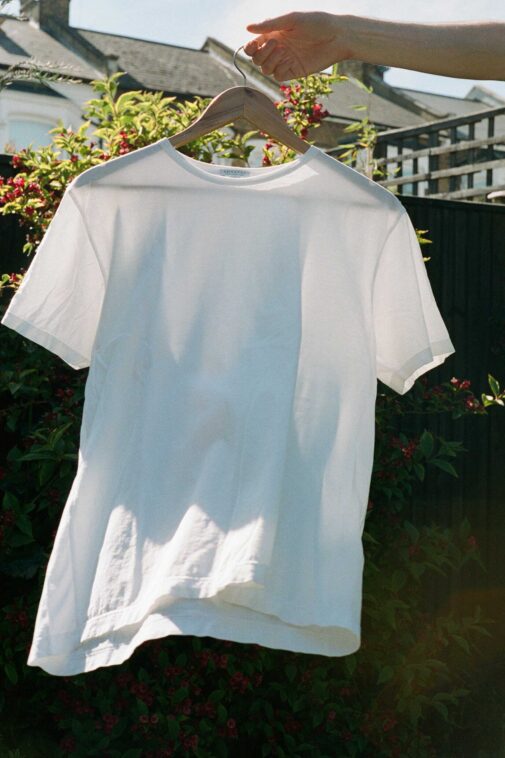 Also good
Sunspel
Classic Cotton T-Shirt
A soft and drapey, luxury t‑shirt from a British heritage juggernaut. Suitable for those that prefer a more lightweight fabric.
The Sunspel classic cotton t‑shirt was another favourite tee of ours. Sunspel apparently has a claim to have made the first ever proper t‑shirt, and the UK based heritage brand certainly makes some of the most beautiful t‑shirts I've ever encountered. Super soft and drapey with a very clean neckline and detailing, it genuinely feels like a luxury product, much more so than most of the t‑shirts we tested. It also washed very well and kept it's shape and colour and comes in a huge range of options in terms of pattern and tasteful colourways.
That said, at £70 it's hard to consider the Sunspel a staple piece. If you're building a capsule wardrobe there are a lot of things that are a better use of money and in testing I found the COS round neck t‑shirt was a pretty good approximation of the soft, refined look of the sunspel tee (albeit fitting a bit slimmer and with not quite as much drape) and the lightness of the fabric is not going to suit all body types, if you're a heavyweight tee guy it's not for you. The brand is favourite of many of my friends in the fashion industry for good reason though, it's a beautifully made t‑shirt and probably as good as such a staple item can be, albeit at a pretty hefty price, especially considering the brand does no-multipacks or discounts (but generally has pretty decent seasonal sales if you're considering giving it a go).
Basically, if you've got the money and you prefer a lighter more refined t‑shirt, this is the one to go for.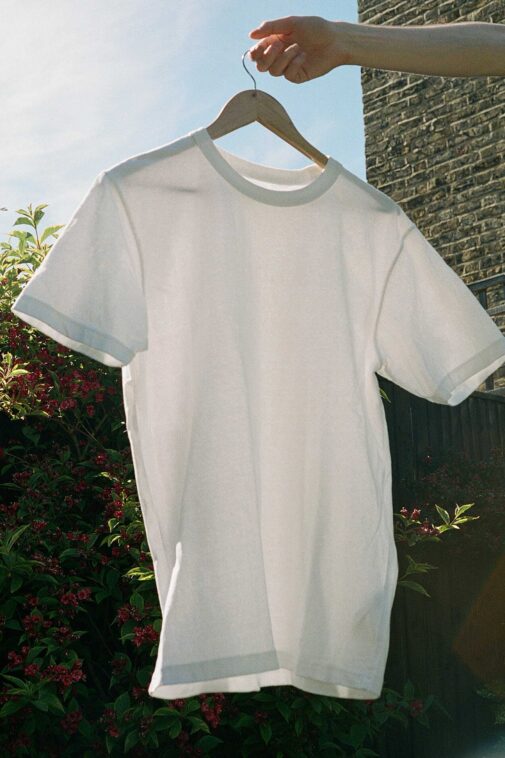 Budget pick
UNIQLO
Supima Cotton T-Shirt
The best cheap everyday t‑shirt comes in a more relaxed fit and will last a long time. Also available in a huge variety of colours.
If you're just looking for a good everyday t‑shirt and aren't inclined to spend more than a tenner on it then UNIQLO's supima cotton t‑shirt can't be beat. The fabric is a soft supima cotton that washes and wears beautifully (my 3 year old tee's are still in good nick) and the fit is a good allround, with a slightly relaxed feel bordering on boxy that make's it suitable for most body types. It comes in a huge range of seasonal colours, it costs just under £10 and are generally produced in India.
If you prefer a heavyweight t‑shirt they also have the Christophe Lemaire designed UNIQLO‑U line's t‑shirt which has a boxier 90's fit and an almost sweatshirt weight fabric (it was my girlfriends favourite) which is available for the same price in a range of great colours.
Why you should trust us
I'm a professional stylist, working in menswear and based in London. I work on both Editorial and E‑Com shoots on a weekly basis and generally spend my time surrounded by racks of clothing. I've also written extensively about the history of clothing and style at the now defunct Epochs​.co and worked previously in fashion retail and visual merchandising.
All clothing was purchased retail and worn and washed over a period of time, no gifts or discounts and no preferential treatment was given. I've no professional connections with any of the brands we reviewed.
How we tested our t‑shirts
Researching began online. We checked some threads, professional articles and influencer guides as well as surveying industry friends for recommendations, I also took t‑shirts that I had previous experience with and combined them into a short list of the t‑shirts that were most consistently recommended.
I tried to cover a range of styles, weights, brands and also tried some different material make ups (though I generally stuck to cotton as the core, no Merino t‑shirts were reviewed as they felt like a different category) and various countries of origin and pricepoints.
We created a set of criteria that all t‑shirts were judged against (see ​"What to look for" below). All purchased tee's were put in rotation for several months and notes taken on first and subsequent wears. We tracked the different pairs, stored notes, and ranked them using a Notion database. Finally we compiled our findings into this article. We intend to update this page periodically as we try new pairs (keep and eye on our changelog for updates) as there are other pairs we would still like to try.
What to look for in a t‑shirt
White cotton t‑shirts: For consistency we stuck pretty close to the classic white t‑shirt, we didn't opt for anything too performance based or directional. I wanted to capture the best workaday t‑shirt to be worn with a wide variety of styles and wide range of situations. We skipped out on anything that had an embroidered logo or contrast materials, this was about the tee.
Availability: One of the ways that we narrowed the final list was to stick to brands that specialised in basics and would consistently have the same t‑shirt in stock. A staple should be available from year to year with very little change and we felt that the final selection of t‑shirts reflected this well.
Colours: We tested all t‑shirts in white, we felt that it was the most common staple t‑shirt and allowed us to best see the fabric quality and fit across styles.
Fit: We kept track of the neckline, arms and body of the t‑shirt as well as the length overall.
Material: Almost all our tee's were 100% cotton, we saw this as important for a wash and wear everyday t‑shirt, that said we did try a lycra blend style from Swedish minimalists Filippa K and a very traditional loopwheeled (an older knitting method) t‑shirt from German brand Merz B Schwanen.
Durability: How does the garment hold up in day to day wear? How does it cope with being washed again and again? we wanted a t‑shirt that kept it's shape and it's handle and softness over repeated washings, especially with the more delicate weights. We also wanted to see how much shrinkage we could expect. t‑shirts were washed on a standard 40 degree cotton cycle.
Price: We tried to have a range from the top of the market (£70 for Sunspel) to the cheapest staple t‑shirts from Gildan and Fruit of the Loom which can be had for less than £2. We were concious that it would be hard to call anything above £70 a ​"staple" even for those with the highest budgets.
Origin: Where the garment is manufactured. Today's shoppers are much more conscientious about the ethics of their clothing. We tried to consider the importance of transparancy around manufacture and traceability in our reviews.
The competition
I'm a big fan of the American direct to consumer brand Entireworld and was pretty excited to review their standard tee and oversized styles. Both were incredible soft and had good fits but I found they actually lost that soft handle with washing and felt somewhat flimsy, I was also a bit disappointed to see their screenprinted labelling fading and peeling after the first wash. At $32 each they are also much more expensive than UNIQLO for what felt like a similar quality of product.
I also checked out the multiple weights of Swedish high street brand ARKET's range (not to be confused with ASKET!) I really like the brands minimalist branding and style, and some of my Stylist colleagues swear by them, but, I found the pricing on the steep side, especially for the heavyweight tee at £32 and while the fit was fine it wasn't notable. The fabric is almost micro-mesh like and comfortable with a good drape and they did wash well so they weren't bad t-shirts but I just thought the Uniqlo tee offered better value and the ASKET tee a better quality overall.
We also tried H&M group minimalist COS's basic t-shirt out. I was a big fan and felt it was closest to Sunspel in feeling like a really smart, luxurious t-shirt but it was quite drapey and slim fitting and certainly wouldn't suit every body type. If you want the feel and look of a Sunspel t-shirt on a budget then it's hard to go wrong with this one. It also washes and holds up very well, I had a navy version of it thats just starting to fray now after 5 years of heavy use.
Fruit of the Loom is one of the brands that came up again and again in lists and I knew they were one of the originators of the American t-shirt but I was deeply disappointed by the product, the t-shirt looked and felt notably cheap and well it was but considering the Gildan heavy tee at the same price point was one of my favourites from testing I was disappointed and wouldn't recommend.
I was curious about tee's with a slightly more modern and technical fabrication and I had fond memories of an older variation of Filippa K's lycra tee. The fabric was interesting, and I thought it was a nice tee in the more fitted end of things, but I did find it actually lost shape over time and the neckline didn't hold up from repeated washings, though it kept it's colour well and I'm impressed by the brands transparency about factories and sustainability. At £47 it was also one of the more expensive styles and I didn't see the value.
Finally I wanted to try a t-shirt that was as close as possible to an authentic vintage t-shirt and after researching a number of different options I went with Merz B Schwanen's 50's tee. This t-shirt is produced on loopwheeler machines, which date back to the 1930s and work very slowly to create a character full slubby textured cotton which has a bit of natural stretch in it. I really liked the feel of the fabric and the fit was cool in that classic way but at almost £50 it didn't blow me away or feel noticeably better than other options I tried. That said the brand does everything in-house and they have a huge range of t-shirts in different historical styles and weights so I would like to see more from them.