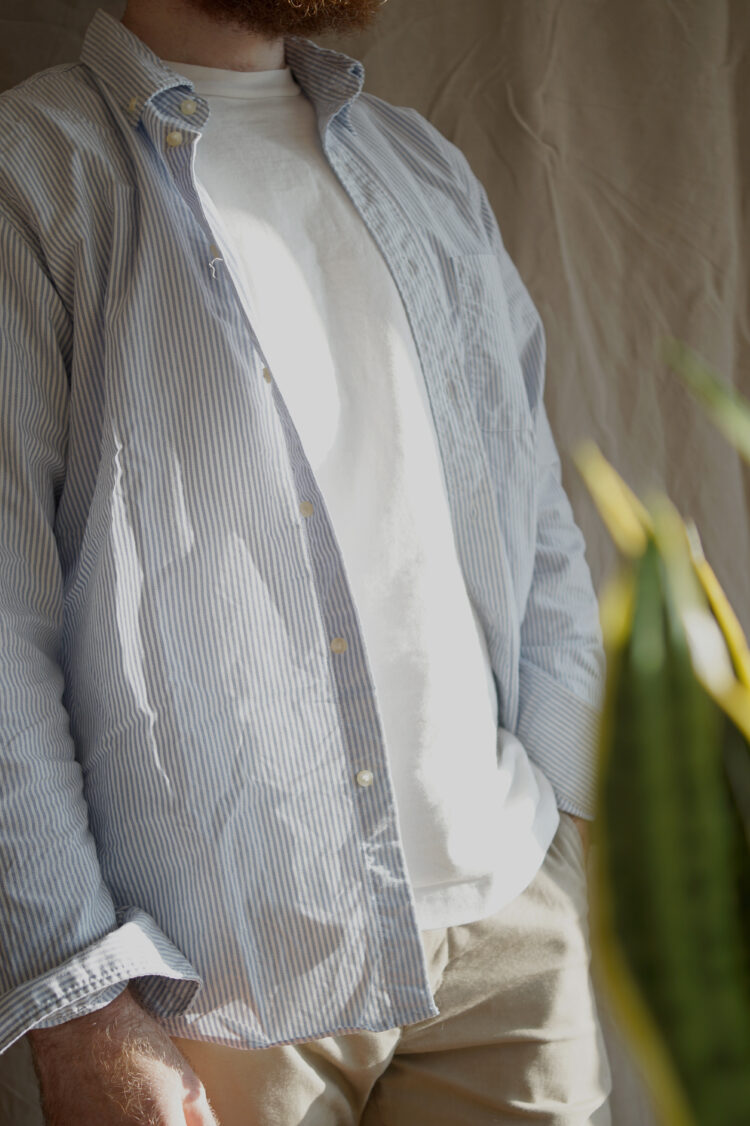 The best oxford shirt
Tucked, untucked, open, closed, ironed, wrinkled, buttoned, rolled. The Oxford cloth button down shirt is unparalleled in versatility, making it the ideal everyday shirt. Many of us have ditched wearing shirts since the pandemic began. But I have a message for you, sweatsuit-wearer: It's time to put on a shirt again.

After researching 17 Oxford shirts, and buying, wearing, and washing 9 over 3 months, the Kamakura Shirts New Vintage Ivy Button Down Oxford is the best. It's a super versatile shirt that can fit in anyone's wardrobe. Gitman Vintage's Oxford is a more expensive alternative with a beautiful Oxford material. Uniqlo's Regular Fit Oxford Shirt is a much cheaper option that's a good approximation of its more expensive cousins.
Kamakura Shirts New Vintage Ivy Button Down Oxford emerged as the best overall Oxford shirt in testing. It manages to balance all the details to make a shirt that is unmatched in terms of versatility and quality.
The cut is on the slimmer end of a regular fit. I sized up my usual neck size by half an inch to get this fit. The length is similarly well balanced, being not-too-long when worn untucked but still suitable for tucking in for me (I'm around 5'8" or 173cm for reference).
The collar is a thing of beauty, with a stunning roll on a classic, pointed collar. Interestingly the shirt omits the button on the shirt sleeve, above the cuff. This didn't affect the shirt in any way. Other than that it has all the trappings of a classic Oxford shirt, with a single front pocket, locker loop, and box pleat.
Price-wise the Kamakura represents good value. $100 is a fair price for a high quality shirt made in Japan. In terms of the ​"premium" shirts manufactured in developed countries, this was the second cheapest tested, after ASKET's Oxford Shirt which was made in Portugal. Unfortunately Kamakura is not transparent about its factory conditions, which it something we'd like to see rectified in the future. A representative from Kamakura said that although the brand manufactures all its shirts in Japan, the brand itself does not actually own any factories. However they said that the wages of workers in factories that Kamakura uses are ​"higher than any other clients because we strongly wish them to survive their business and maintain the quality of Made in Japan in the future."
The Oxford cloth used is more lightweight than most others. Day to day, this presents no issues and gives the shirt an airy quality when worn. However the lighter material creases more easily than other, more substantial Oxford cloths. Folding or hanging the shirt alleviates this for the most part, just don't leave it balled-up. Other than that the material held up well in a wash with no issues.
Be aware that traditionally Kamakura has had the ​"New York" and ​"Tokyo Slim" fits, but these two systems have been merged into one in this particular shirt model. My advice to you: size up to achieve the classic Oxford look.
This shirt is so versatile that I would recommend it to anyone to wear in a myriad of different ways. You cannot go wrong.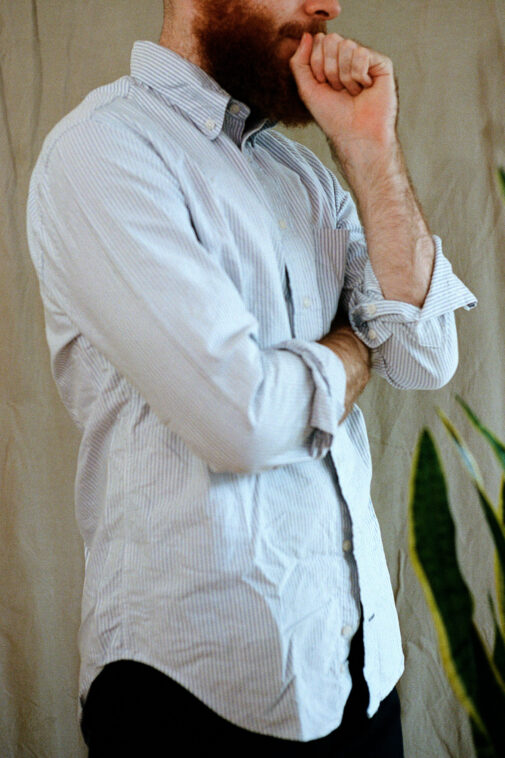 Upgrade pick
Gitman Vintage
Oxford
A beautiful shirt for a lot of money, with a substantial Oxford cloth, a roomier fit, and a great collar. Made in USA.
If you've got the money, then Gitman Vintage's Oxford shirt won't disappoint. A roomier fit gives the Gitman shirt a more classic regular fit than the top pick. It is also slightly longer, and is appropriate for wearing tucked or untucked.
The material used is the real star of the show. It's more heavyweight and substantial feeling than most other Oxfords. The heaviness of the cloth meant that the shirt wore wrinkles and creases beautifully. Arguably, it looks better un-ironed and after a bit of abuse. After a few washes the cloth is imbued with some magical properties, making it feel coarse yet soft. This is one of those garments that will only get better with age.
Speaking of which, it feels incredibly well put together and like it will last a lifetime. It's made in the USA by Gitman Brothers. Unfortunately Gitman recently closed up shop in their 88 year old factory in Ashland, Pennsylvania and relocated manufacturing to their Lafayette, Louisiana factory.
The collar rolls beautifully, and was really the only collar that looked well when worn not fastened down. The thick Oxford cloth gives the collar a characterful, undulating quality. The shirt has authentic details like locker loop, box pleat and single front pocket. It also has a thick, double layer placket which feels reassuring when buttoning or unbuttoning the shirt
The only downside of this shirt is the price. It's expensive, there's no getting around that. All I can say is that you get what you pay for. If you're in the market for a slightly more relaxed shirt and you have the money, you can't go wrong here. Of all the shirts tested, this is the one most likely to outlive you.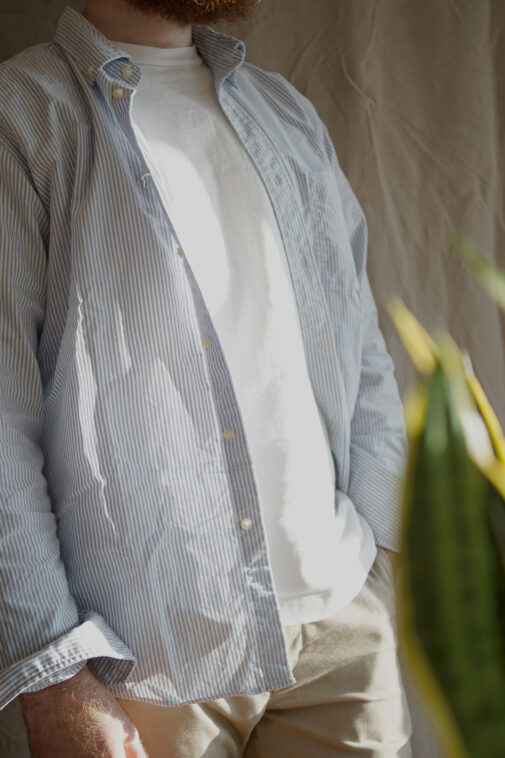 Budget pick
Uniqlo
Men's Regular Fit Oxford Shirt
Surprisingly few compromises for such a cheap garment. However, buyers should be aware that Uniqlo has some transparency issues. Made in Vietnam.
Uniqlo's Men's Regular Fit Oxford Shirt is the cheapest shirt in testing, coming in at an astonishing $29.90/£24.90. For that price you get… actually a pretty good shirt.
The fit, as the name implies, is on the larger end of the spectrum. Despite this, it still fit quite snug on my shoulders so the more wide-shouldered should be conscious of that.
The Oxford cloth used is a mid weight but substantial feeling one. It wore creases and wrinkles well and washed without issue. Uniqlo's shirt is available in a range of fits and tons of colours, much more so than any other shirts tested.
The only mark against the garment itself is the collar, which had a tendency to flatten out on itself, negating the oft mentioned collar roll. This may or may not be a dealbreaker, depending on how horny for collar roll you are. The button down collar omits the button on the back of the collar but this has no impact in practice.
Uniqlo are not transparent about the working conditions of their factories. It is entirely possible that these shirts, which are made in Vietnam, are made in satisfactory conditions. Though absent proof, that is impossible to say. Uniqlo (among many others) were implicated in the use of Uygher forced labour cotton in the Xinjiang region of China although they've now established a policy that will attempt to prevent this in future.
Overall, I was surprised of the quality of package from Uniqlo here. It's a good approximation of a significantly more expensive shirt.
What to look for
Being oxford cloth button down shirts (often abbreviated to OCBD) means that shirts tested had to be composed of oxford cotton material, be able to button up fully at the front, and have a button down collar.
Material: All shirts tested were made from 100% Oxford cotton. It has a relatively coarse weave, giving it a unique and visible texture. Generally the coarser the weave, the more casual it will appear. There are finer, more formal looking versions of Oxford cloth but we stuck to the relatively casual end of things.
Fit: The fit of an Oxford shirt should be a looser, more relaxed one. They should be roomy but not billowing. This means that shirts can spill out when tucked in, but that is arguably part of the look of an Oxford shirt. Slim or very slim fits were avoided, unless there was no other option from a particular brand.
Length: Longer lengths are better at staying tucked in, but can sometimes look untidy when untucked. Length is more down to personal preference. If shirts seemed notably long or short, that is noted in the review.
Versatility: A shirt should work in a wide variety of configurations, such as tucked, untucked, open, closed, collar buttoned down and left un-buttoned, ironed or not.
Collar and collar roll: All collars tested were button down with a two or three button layout (two at the front on the points, and usually one at the back on the band). ​"Collar roll" refers to the curve of the top of the collar, and the way it falls off towards the point of the collar. Collar roll is something that is fetishised in the menswear community (and has been since Oxford shirts were introduced in America at the turn of the 19th century). Many consider collar roll a key factor in a quality Oxford shirt.
Construction details: Oxford button down shirts have a history that goes back to the early 19th century. Over time a very specific set of details have become the norm. The more obvious of these is the single front pocket and the eponymous button down collar. But there are couple of other more eclectic details to keep an eye out for. Firstly the ​"box pleat" in the centre of the back of the shirt is a small, box shaped fold that gives the wearer a comfortable range of motion when moving. Secondly, a ​"locker loop" is attached at the top of the box pleat. This was a way for wearers to hang up their shirts in the locker room. Not all of these are essential, but they do contribute to the classic oxford shirt look.
Price: The cost of shirts tested varied significantly. An effort was made to test shirts across a wide range of price points.
Origin: Where the shirts are made. Countries of origin varied widely, so shirts from a range of different origins were tested.
Colour: Oxford shirts typically come in about five classic colourways: light blue, white, light blue stripe, grey stripe and pink. We stuck to these in testing.
Buttons: Buttons are usually composed of plastic, but occasionally other materials such as mother of pearl or chalk. Most shirts tested appear to have plastic buttons, unless otherwise noted. Fun fact: We were forbidden from importing a Brooks Brothers shirt into the UK because it had mother of pearl buttons. Thanks, United States Fish and Wildlife Service!
Corporate history and ownership: The owners of these companies were researched to see if companies have changed hands over the decades, or if they were independent (or to what degree they were).
Availability: Garments should be in stock year round and ship to major global geographies.
The competition
ASKET's Oxford Shirt is the Swedish brand's take on the category. It's more casual feeling than others we tested, due to its shorter length and more stubby collar. The shorter length makes it ideal for wearing untucked, but it isn't well suited for tucking in. The shorter collar length meant that the collar flattened in on itself, which some collar roll aficionados may not like. The Oxford cloth material is on the heavier end, and washed without any issue, and wore wrinkling and creases well. ASKET omits the locker loop, which is more a statement of minimalist intent than anything else. The brand also brings its stellar eco and environmental credentials to the table. The shirt is made in Portugal and is incredibly well priced considering the effort that's gone in to production. It was cheaper than many competitors made in China and Vietnam, and substantially cheaper than those made in Japan, USA and Portugal. If eco-consciousness is important to you, or if you are after a more casual take on the Oxford shirt (and intend on wearing it untucked for the most part), you can't go wrong with ASKET's entry.
The Drake's Cotton Oxford Cloth Button-Down Shirt was the most expensive shirt in testing. For this price you get a beautiful garment in terms of material and construction, made in Drake's own factory in Somerset, UK. The Oxford cloth in this shirt is easily the softest of any shirt tested. Not only was it incredibly soft, but it stayed soft after being washed multiple times too. It also has a long pointed collar, which rolled nicely. It is quite long at the back, perhaps designed with tucking in in mind. Unfortunately the shirt is quite slim cut, with high arm holes. This made it uncomfortable to wear compared to other, more roomy fits. With all that said, there are a specific set of circumstances I can recommend this shirt under: If you really want a Drake's shirt, have a lot of money, prefer a slimmer fit, and intend on mostly tucking the shirt in, then you will be happy with this shirt. Check out Drake's archive sales which happen a couple of times a year for some hefty discounts (but be quick).
Entireworld's Organic Cotton Giant Shirt falls outside the mould of the classic Oxford. Living up to it's ​"giant" name, it features a wide, boxy fit, with large arm openings that taper off towards the cuff. The fit is comfortable, and the more casual take on the Oxford feels relevant today. The buttons, which are oversized and colour-matched in white in our particular garment, really left an impression and are a fantastic detail that more brands should look to. Entireworld's branding, as ever, is top notch (although the autoplaying music on their website is a bridge too far). Other than the fit and the buttons, the shirt isn't notable. The collar is fine, the midweight Oxford cloth is… fine. The main drawback of this shirt is that it is extortionately priced for a shirt made in China. Entireworld aren't very transparent on their manufacturing conditions, although they do have a PDF with factory guidelines on their website, which is a start.
The GANT Regular Fit Oxford Shirt is an unremarkable garment, with a logo on the pocket, and overpriced considering it's made in China. The fit is slightly relaxed, the collar roll is decent, the mid weight Oxford cloth is soft and inoffensive. There are 2 dealbreakers when it comes to this shirt. Firstly, the embroidered logo on the chest pocket. Secondly, at the time of writing (March 2021), Gant are not shipping to the USA from their website. It's a sad fall from grace for the company that first brought the Oxford shirt to popularity in the Yale Co-op in the 50s and 60s.
Lands' End's Men's Sail Rigger Oxford Shirt, Traditional Fit was the second cheapest shirt tested, after Uniqlo. It has a nice, classic, mid weight Oxford material. Unfortunately it is a huge fitting shirt, and not in a cool or deliberate way like Entireworld's Giant Shirt. The fit was so large that it made it difficult to wear in a flattering way. The sleeves are on the long side and the collar flattened out easily as well. Being the only shirt tested made in Mauritius piqued my interest, so I checked out the brand on fashion transparency website Good On You. They rate Lands End as ​"not good enough." If you are after a cheap Oxford shirt, our budget pick is twice as good for half the price.
The Wythe New York Oxford Cloth Button Down is an entry from a relative up and comer in the menswear world. Birthed from a successful Kickstarter campaign in late 2019, their first entry into the Oxford shirt world is an impressive one. The shirt is a classically presented Oxford shirt. It has a regular fit, and a lovely and soft mid weight Oxford cloth. It has a longer, pointed collar, which maintained a nice roll. The shirt is made in Portugal and oozes authenticity. Really the only oddity of the package is how it's presented. It doesn't really have any branding. There's an ink stamp on the inside of the collar with the size printed on it, and a small fabric label with the origin and material… and that's it. I guess this is cool in a kind of military uniform kind of way, but for 150 bucks I expected the presentation to be better. Is it a good shirt? Yes. Great even. But its much more expensive than our top pick, and lacks some of the character of our upgrade pick, at a similar price. Having said that, if our upgrade pick is out of stock, Whythe's shirt is a good alternative.