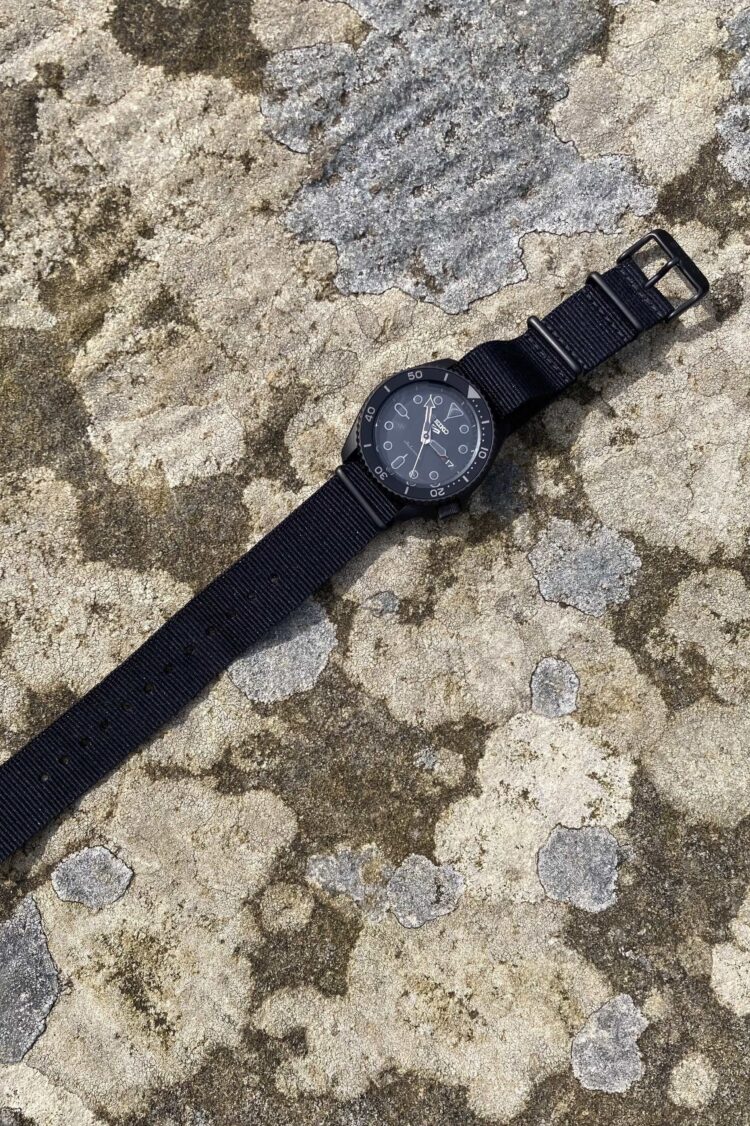 The best watch under £300
Watches are an odd category to review. If you look at the top end of the market you have what could be the ultimate Veblen good; ever more intricate, enormous watches that exist to broadcast that the wearer has lots of money. This idea of watches as symbols of conspicuous consumption can be traced back to the Swiss watchmaking industry's near collapse in the 1970s, during the quartz revolution. It was here that the image of a watch as a high spec tool — like a high end camera — was supplanted with the image of watches as craft objects.
Nobody at Typical Contents ever bought into this shift. The use of quartz in timekeeping was a brilliant technological advancement. I appreciate that no one really needs a watch today but they are an easy and fun accessory that has a pleasing, if outdated, functional quality. In my case I also see them as a way to wean myself off of my smartphone at weekends or when traveling. Maybe none of this applies to you, but your choice of watch can be an interesting way to telegraph your taste and style. In many men's minds, watches are the last acceptable piece of jewellery.
Taste and style is the elephant in the room when it comes to a category like watches. There are many websites, magazine and blogs that are dedicated to finer points of horology and, generally speaking, most of the timepieces you'll find on these publication are overwrought, over-complicated or just gross. So I'm just going to lay out my cards here: all bar one of the below picks is quartz. All of them are pretty cheap. And those picks have been chosen on the basis of their distinctive aesthetics above all, more Steve-Jobs-wearing-a-Seiko-Chariot than Drake-in-a-Richard Mille. True Hodinkee-heads may want to avert their gaze now.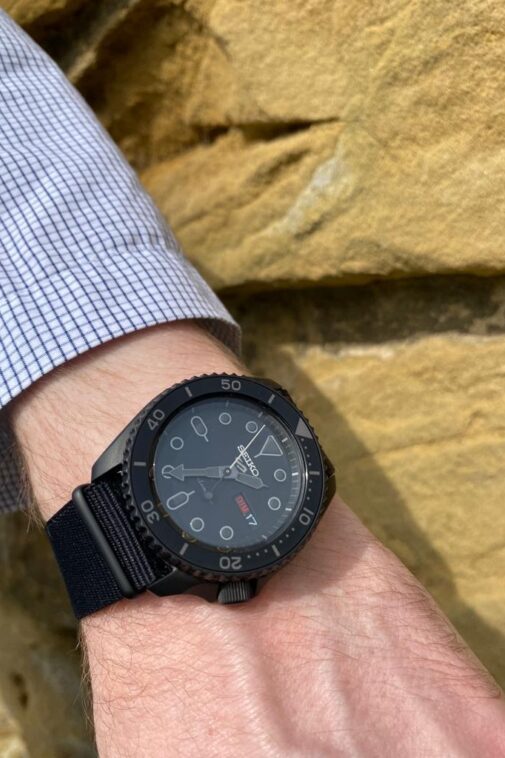 Best Overall
Seiko
Sports SRPD79K1
Seiko are the kings of quality, affordable watchmaking. With the Seiko 5 Sports collection they have a watch family that boasts legit functionality, a smooth automatic motion and a huge range of aesthetic and functional options.
I wasn't expecting to love the Seiko 5 Sports as much as I did. I didn't really see the appeal of automatic movements. I didn't much care for diver style watches (a bit too preppy and James Bond for my tastes). I didn't like large watches. And seeing it top every affordable watch list made me think it would be a watch that ticked all the ​"watch guy" boxes but would be soulless in person. I'm happy to say after months of testing, I was wrong.
The first impression out of the pleasantly sturdy matte black box was that it was by far the most substantial watch of our review. It felt weighty, solid and yet when I was setting the time, frictionless. Once the time was set I understood what I had been missing: the smooth sweep of automatic movement, the seconds hand gently and silently circling the face. This might sound like a small thing but when you've been testing nothing but digital and quartz watches for months it's appreciable, and while it's functionally useless it was enjoyable watching the automatic movement do it's thing through the clear window on the back of the case.
For watch neophytes that might be wondering what exactly automatic movements are; they are essentially a mechanical watch that uses the movement of your body as you wear it to power the mechanism — doing away with the need to wind it regularly as in a traditional mechanical. This concept is well explained by Bartosz Ciechanowski. I see it as the bridge between the consistency and ease of quartz and the old-world technical charm of mechanicals. This particular movement, the Seiko 4R36, is found throughout the five series. It is made in-house in Japan and has a 41 hour power reserve (meaning if you don't wear it every day it'll still keep the time for those 41 hours).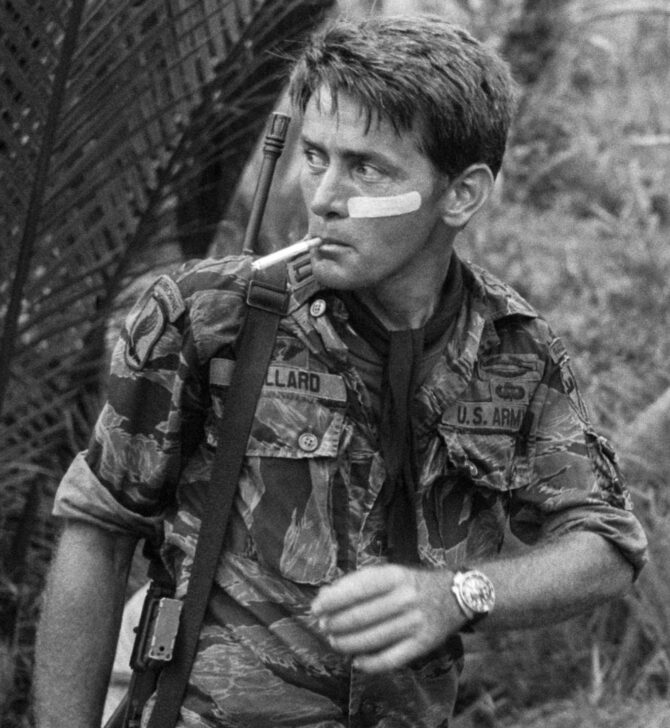 Martin Sheen made an icon of Seiko's chunky Prospex diver in the role of Captain Willard in Apocalypse now. Some of the 5 sport range seem to take direct inspiration from the design which since reissue costs in the range of £1000.
The range of the 5 Sport series is vast; going from from Captain Willard-esque divers, field watches all the way to styles that pass as dress watches. The majority of the range is £250 or less but I confess that my favourite model, the ​"Stealth Black" SRPD79K1, retails at a more expensive £280. I did manage to snag it on sale for £250 however.
I loved the idea of something with the heft of a diver style made subtle with stark black on black markings. As I wore it I grew to love the weight on my wrist. The low-key colourway combined with a black NATO strap meant it looked just as good dressed up and down.
The Seiko 5 Sport is the most expensive watch we reviewed and at 42mm diameter, also the biggest, but in this instance it really is a case of you get what you pay for. There are no tricks or tradeoffs here. Seiko has put together a beautifully made, smoothly functional and visually striking sport watch. It can be worn with just about anything and won't put much of a dent in your bank account. In a world where £1000+ watches are often described as ​"entry level", watch makers could learn a thing or two from the Seiko 5 Sports series.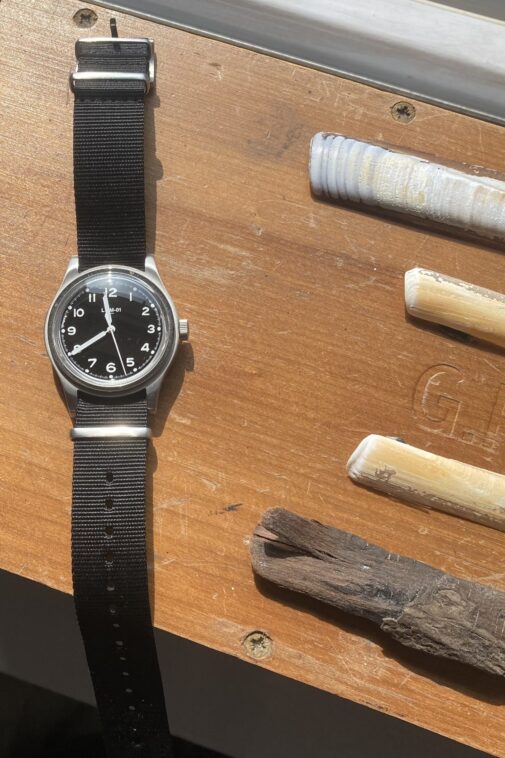 Also Good
Merci
LMM-01 Field Watch
A charming, versatile evocation of classic military designs from the 1930s and 40s made by people with a passion for watches. The LMM-01 is the perfect everyday timepiece for someone who wants something more subtle than the Seiko 5 Sport.
It was a struggle to choose between the Merci LMM-01 Field Watch and our top pick, the Seiko 5 Sports SRPD79K1. In the end the Seiko is more accessible (you can buy it all over the world) and functional (it's tough and very water-resistant). But the Merci LMM-01 comes out on top in one important area — charm.
The entire LMM-01 range has charm by the bucketload. From the Bauhaus-esque stylings of the original, to the heirloom 1960s quality of the Grand Pa, or the functional beauty of the Railway model. These designs have been lavished in love and attention. On top of that there are small details like the prominent domed crystal, special Japanese Seiko VD78 quartz movement that mimics the smooth movement of a mechanical watch, and the hand drawn and slightly wonky numerals mimicking the hand drawn numbers of 1940s era field watches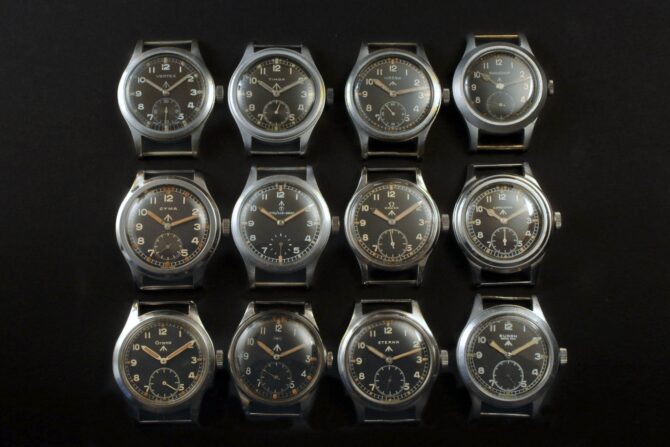 The ​"Dirty Dozen" as they are known to collectors are an iconic set of WW2-era British Military field watches which the LMM-01 field watch seems to take inspiration from.
If this sounds like like a labour of love that's because, well, it is. Merci is not a watch company. It is a well regarded lifestyle store in the centre of Paris known for its quirky interiors, carefully selected range of household goods and fashion and an emphasis on philanthropy. Normally this is a red flag. Watches from people who don't really do watches are usually a disaster. The lower-end of the market is full of fashion watches with the same 3 or 4 mediocre quartz movements selling for many multiples of their value in airports and department stores.
Where the LMM-01 range is different is that Arthur Gerbi, the CEO of Merci, is a legitimate watch guy with a large collection of vintage designs and he wanted to create the rarest of horological beasts: a legitimately aesthetic and considered watch at a sub €500 level. The original line consisted of a single €500 mechanical and €190 quartz style, both assembled in Switzerland. This was an immediate hit, quickly expanded with the ​"Special Project" range of several other face designs with an upgraded quartz movement and a further mechanical in collaboration with Hodinkee.
The Field Watch model that I purchased feels like the essential version of the style: tasteful, easy to read numerals with a decent lume for reading in the dark. Elegant enough to make me feel like Leonard Cohen when I dress up but utilitarian enough for everyday casual wear. If I had to choose one watch to wear forever I think I'd opt for this one, and with an extensive range of easily interchangeable straps available (vintage looking bamboo metal, leather, suede and a rainbow of NATO options) it can be made to fit in almost any context.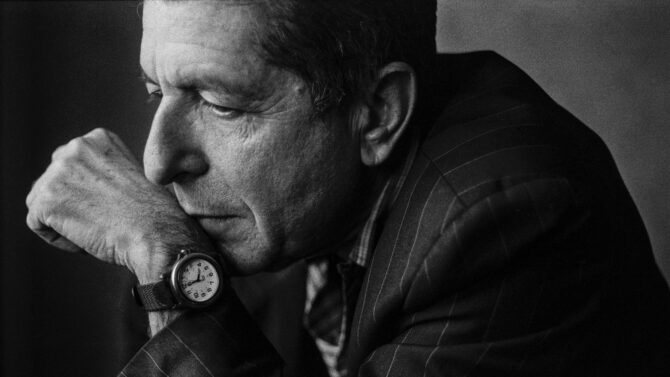 Leonard Cohen wore a British Army issue field watch made by CWC (Cabot Watch Company) with his Armani suits. Vintage models are fairly easy to come by on Ebay for around £300 – 500
So why isn't it top of our list? Well as is often the case at this price point, something had to go in order to hit the budget. In the case of the LMM-01 it was something that's taken for granted in modern watchmaking — water resistance. Merci describes the watch as splash proof but it's not going to survive a shower or being dropped in the pool. From parsing reviews online its crystal also isn't the most durable with multiple complaints of it smashing and scratching fairly easily. Availability is also an issue, with the watch only being carried by Hodinkee, Beams in Japan and Merci itself.
With all that said if, like me, you prefer smaller watches, have a soft spot for vintage inspired designs and don't mind being a bit more careful with your time piece, then the LMM-01 comes highly recommended.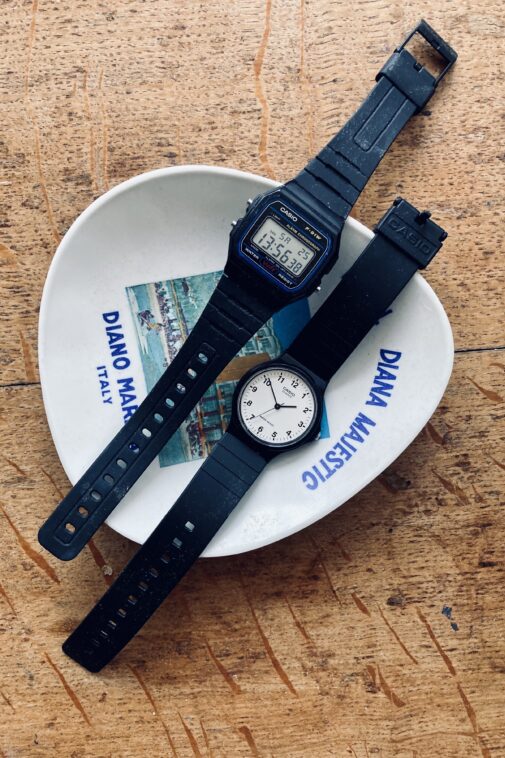 Budget pick(s)
Casio
Casio MQ-24-7BLL and Casio F91W-1
These two watches from Casio, experts of high-quality/low cost watchmaking, exude style and functionality disproportionate to their affordable price. Either (or both!) work as a great everyday watch.
When it came down to it, I just couldn't choose between the Casio MQ-24 – 7BLL and the Casio F91W‑1. Both have so much charm, were so damn cheap and so easy to wear while having their own unique aesthetics that I'm inclined to think that if you're a tight budget, buy-both and wear them in rotation, you won't regret it.
The Casio MQ-24 – 7BLL has all the stark simplicity of minimalist styles from the 80s with a very Steve-Jobs-in-his-prime aesthetic. It was also the single most complemented watch of this entire review. People really seemed to respond to it's small (32mm) but elegant size and easily readable face. Plus it looked great with everything I wore it with. It weighs practically nothing and keeps great time with a simple, albeit slightly noisy, Japanese movement. All that for the price of lunch or a paperback book. My only very minor gripe is the silicone band has a tendency to get sweaty on hot days but at this price it really is a minor one.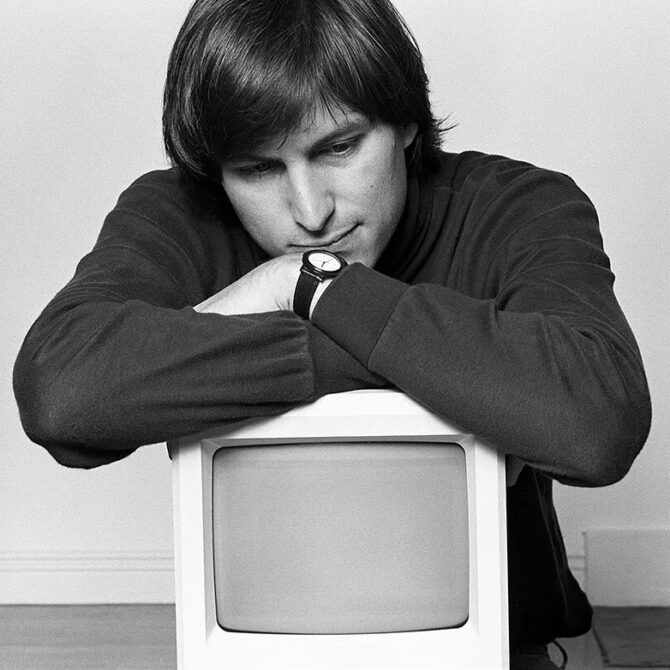 The Iconic mid-80s photo of Steve Jobs wearing the sadly discontinued Seiko Chariot, although the MQ-24 – 7BLL has a similar aesthetic purity. There is also a nice mesh strap variation if you wanted to do a day/​night watch rotation.
As for the Casio F91W‑1? Well it's one of the only watches with its own Wikipedia entry. It's an industrial design classic from 1989 thats sold over 3 million units since its debut. It might be the quintessential digital watch. I love its starkly functional face with its cobalt blue outline and WR water resist symbol. It displays day and date as well as AM/PM in addition to the time and includes a built-in, albeit very weak, light for seeing in the dark. Additional functions include a perfectly adequate alarm and stop watch. If you wanted something a little more substantial looking than the original matte black resin then you could also upgrade to the metal strapped version (albeit with a resin case painted to resemble metal) or the other classic, hilariously over-functional World Time. I have a vision of a very forward looking executive in the 80s rocking this as he jets between Tokyo and New York on a Concord.
If your looking for a cheap but charming accessory then look no further, these two have you covered. Choose both or choose one — you won't be disappointed.
What we looked for
Price: Under £300 but we also wanted watches that felt like a good price for what they were. For example the Timex MK1 has a lovely simple, nostalgic quality but it's a very cheap-feeling watch for £60 — so that's a no from us.
Versatility: A sub £300 watch guide is not for the person who is going to run out and buy a set of Omegas. We wanted a watch that was aesthetic, easy to wear on a daily basis, and unlikely to look too out of place in daily wear. It was a bonus if it could be dressed up or down but we didn't focus too much on this as there is something quite nice about a dress watch worn casually or a cheap digital watch dressed up. We also kept in mind watch ​"families" that had multiple styling options for the same functionality and core components and thus could have models to suit a variety of tastes.
Aesthetics: We opted for watches that had a distinctive, easy to wear aesthetic: timeless but innocuous, with a pleasing functional quality. The kind of watch that the brand phobic Cayce Pollard of William Gibson's Pattern recognition would wear (side note: Gibson is a known watch guy)
Originality: We weren't particularly interested in clones or tributes to more famous or expensive styles. Those styles have their place for budding watch collectors but part of me thinks if you want the real thing, save up and go vintage. Otherwise it seemed best to go for a striking but affordable style. Field watches are a great example of a vernacular style, produced by many companies that don't feel cheesy when made affordable. We avoided the MANY cheap and self consciously ​"minimal" watch companies that boomed in the wake of Uniform Wares early designs as feel they like a millennial cliché at this point.
Size: Generally we went for unisex or smaller-sized watch faces in the 40mm or less range. We think a smaller watch is a bit more low-key, wearable, and good for everyday wear. Rare is the guy who looks better with a huge tool watch than something more subtle.
Build quality: Obviously these are on the cheaper end of spectrum but we wanted a watch that wasn't going to fall apart in a few months. Research was carried out on the watch movements, and online reviews and comments were analysed to try and find any red flags not turned up in our testing. We also tried to keep in mind how a watch felt to use (strap, sound, ease of setting, etc.)
Readability: It's easy to forget that the main purpose of a watch is to tell the time. Despite all the other trappings timepieces have picked up over the past hundred years, ability to easily tell the the time at a glance was prioritised. We tried to avoid anything overtly oblique or artistic, but we didn't mind a bit of minimalist face design.
The competition
Timex MK1 field Watch: The MK1 is a resin timex field watch that was reissued with great fanfare about 10 years ago and has since been updated with mechanical models, larger 40mm styles and updated steel casings. It's a neat looking watch with a busy-but-cool face that resembles models from the 1970s Vietnam-era. Although the MK1's own history as a field watch for actual militaries is murky, it seems to have been an 80s-era replacement watch that could be brought on the cheap from military stores rather than actual mil-spec model — which makes sense because this watch is cheap! Like really cheap. It's got the lightest, lousiest plastic case, its tick-ticking is audible from several feet away, the batteries last about 8 months and when you replace them you'll scrape the shit out of the plastic. It's a cool watch but at £60 (like many Timex designs) it's wildly overpriced for the quality. If you're in Japan or South East Asia, try and hunt down the Daiso dept. store brand version of it, ​"the Mili", which can be yours for less than a tenner.
It's also worth mentioning that Timex regularly do some really great looking field watch collaborations with designers like Nigel Cabourn and Todd Snyder that I think are worthwhile on aesthetics alone.
Timex Marlin Mechanical: This watch was not one of our tested models but it feels worth mentioning. It's a faithful reissue of a classic design and has a certain Mad Men-esque quality that could suit someone with more traditional tastes. It's also the very rare sub £500 mechanical watch. Albeit with a (by all accounts) very unreliable Chinese Seagull movement that requires winding twice a day and has been known to break down. At £179 it is, like many Timex watches, aesthetically pleasing while being a bit overpriced for what is.
Swatch ​'Bau Swatch' Elementary: I had to review a Swatch. The company is one of the ultimate accessible watch making brands and nearly single handedly saved the Swiss watch industry from oblivion during the quartz revolution of the 80s. I picked up the Swatch Elementary, a mid-sized Bauhaus inspired design and was left feeling…flat. The thing about Swatch is they are perfectly good, functional watches that have some cleverness going on. Recently they made a very cheap automatic watch that resulted in some cool collaborations with Hodinkee. On the other hand the brand seems stuck: they've become expensive for what they are while losing the freewheeling, design-led energy that made them interesting in the first place. Browsing through old images of Swatches from the 80s and 90s confirms that the brand today is a pale imitation of itself. Like Timex they seem stuck between their much higher priced Swiss compatriots and the cheaper fashion watch competition and have responded by attempting to be high-end luxury and low brow fun all at once. Which is a long way of saying that this watch felt expensive for what it was but, if you like the design then go for it: the see-through ones are cool, and the moon watches are fun albeit expensive.
G‑Shock DW5600BB: I love this watch. Casio's G‑shock line was created in 1983 when the designer Kikuo Ibe, having broken a beloved mechanical watch that belonged to his father, strove to make a resilient beast of a watch. The G‑shock line has been churning out brutalist classics ever since. But I'm fond of the more modest (albeit still chunky) proportions of the classic DW5000 series, which is essentially a tougher, bigger, waterproof take on the classic Casio digital watch. The model I went for is in minimalist black on black but there are literally hundreds of designs to choose from and they all boast the same sturdy build. My only hesitation in awarding it our top spot or runner up is the fact that it's not quite the aesthetic all rounder of the watches that did make the cut. If your style runs to the technical or you just want something a bit bigger than the F91W‑1 then this is the watch for you.
Techné Merlin (quartz): Techné are to my mind one of the most under appreciated micro-brands in the current watch landscape. They consistently make watches that punch above their weight specs-wise, with a distinctive military-meets-aviation aesthetic that's unique to the brand and rare at this price point. The Merlin is a great pilots watch inspired design with a Japanese movement and a clean military aesthetic. If you like larger watches and want a field watch alternative then I recommend you check them out. My only qualm is that the crystal on my watch broke when it fell directly onto a tile floor from a table top despite being tempered. I might have been unlucky as I haven't seen this mentioned in other reviews online (they also now come with a 2 year international warranty).
A Final Note
We're emphatically not ​"Watch Guys" so while we've tried to give honest reviews on the specs, history and quality of these watches, we don't have the depth of knowledge that a dedicated watch review website might bring to the table. We hope though that we can shine a light on some aesthetics and styles that mainstream watch guides tend to give less attention to, and to offer an alternative to predictable guides in this space. If you're still curious and haven't seen a style you like we recommend you check out Cultural Dispatch's exhaustive guides to affordable watches and the in depth reviews at Ben's Watch club.