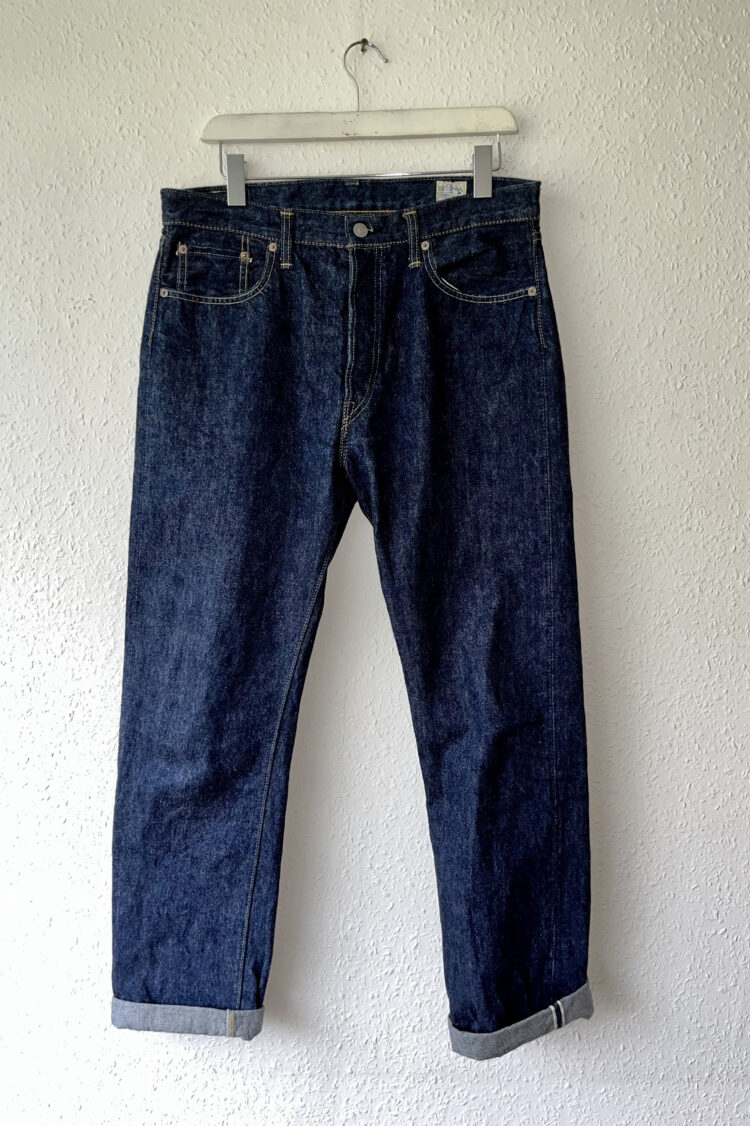 The best everyday jeans
After researching 15 pairs of dark denim jeans and washing and wearing 10 over several months I found the Non Relaxed Jean in raw indigo was my ideal. A soft, mid-weight custom selvedge denim jean that harks back to the minimalism of mid-90s Helmut Lang and Calvin Klein. The Orslow 105 is a loving and faithful take on 1950s Levi's that feels like the best of the Japanese denim tradition and is a good alternative for those who like the classic elements of a pair of jeans. Predictably the kings of the affordable quality basic, Uniqlo's Regular fit selvedge jean is incredible value with a Japanese fabric and flattering tapered fit that compares favourably to jeans nine times more expensive.
Whether it's a treasured pair of torched vintage Levi's or meticulously preserved Japanese raw denim, for most people denim does the heavy-lifting of their wardrobe. The best jeans are a staple that can be worn with almost anything, just about every day, and if my house burnt down tomorrow and I lost all my clothes, a pair of jeans wouldn't be a bad place to start rebuilding.
The enduring ubiquity and popularity of jeans makes it a daunting category to review. With so many possible comparisons and price points how could I meaningfully cover the sheer variety? I can't. So in the end I decided on a narrower range, jeans which are dark indigo, straight or tapered cut, mostly selvedge, and raw denim. To me, the most archetypical incarnation of a jean.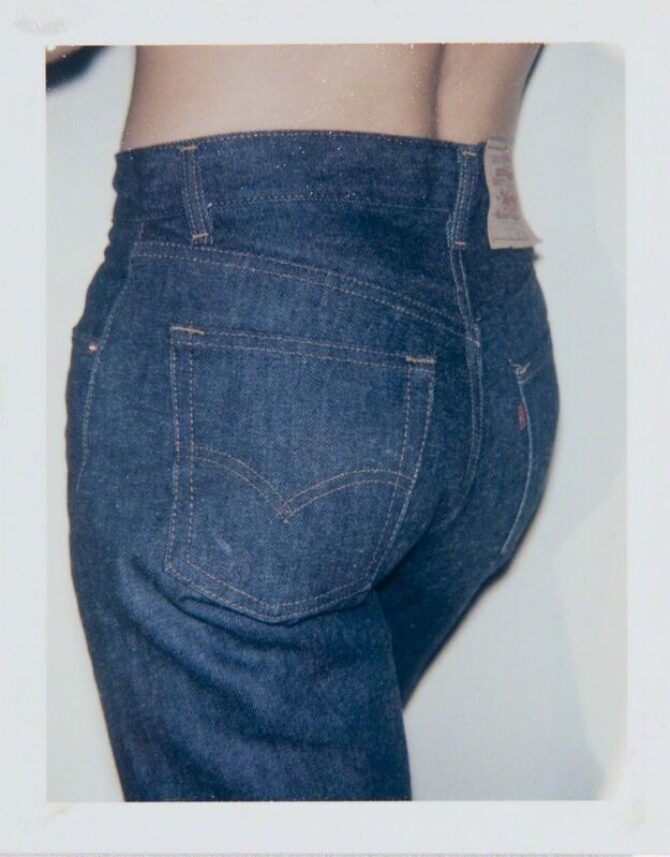 5 pocket denim is an enduring uniform from the era of James Dean to the current day and key piece of a modular wardrobe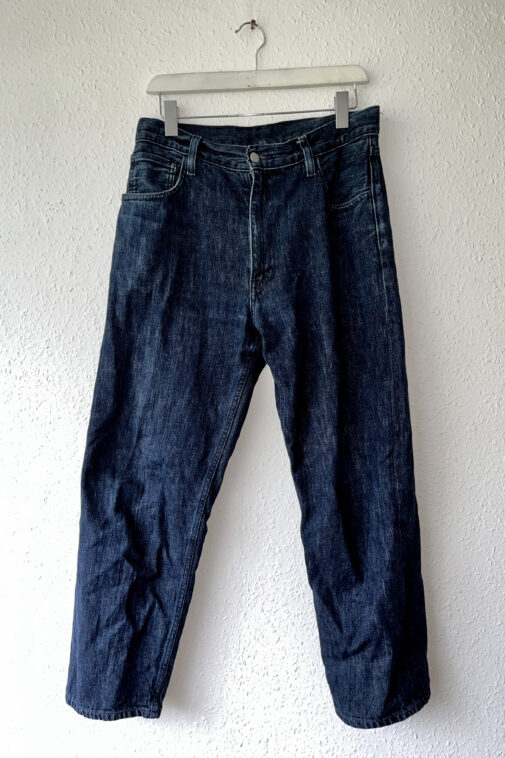 Best Overall
Non
relaxed jean (raw)
A pleasingly paired back jean in a straight taper that goes with just about everything and wears in like a pair of sweatpants.
Non uses a mid-weight denim that comes almost black but slowly fades to a mellow navy blue. They have been designed with a simplicity which echoes the denim of the mid-90s: a lot of the vintage‑y details like patches, contrast stitching and prominent rivets have been stripped away to leave a straightforward raw (or if you like washed) denim.
They are a modern take on the classic that doesn't actually lose what makes denim great, fit and fabric. The other thing that swung them for me was the impeccable credentials around sustainability. The sleek white selvedge denim fabric was milled for them for them in Turkey by a specialist mill ISKO with 50% organic cotton to provide strength and structure, and 50% recycled cotton. They are transparent about factories, traceability and environmental impact.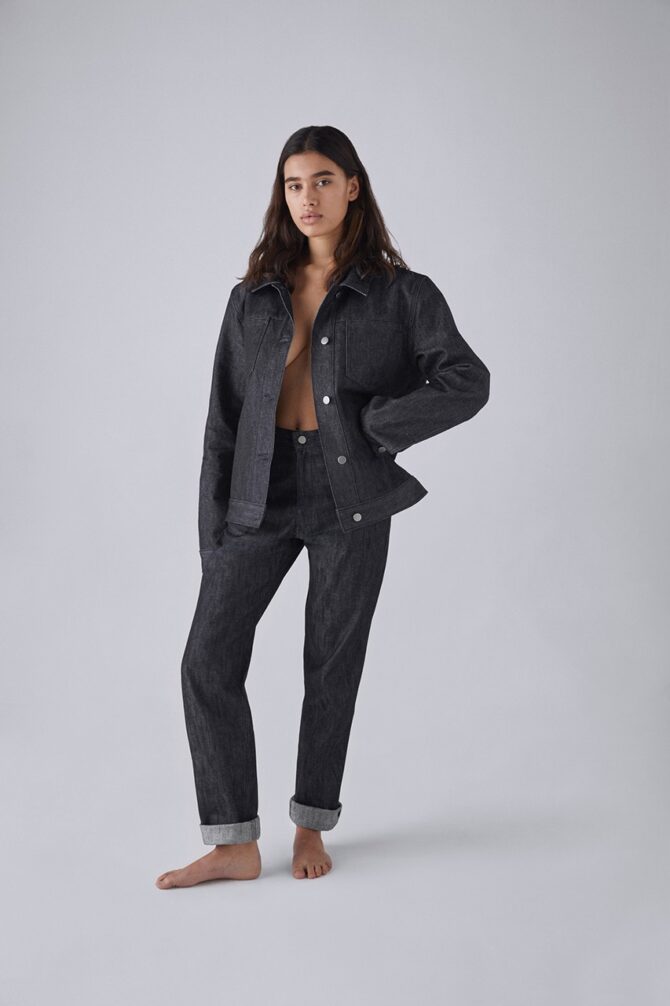 The non aesthetic draws on the minimal look of mid-to-late 90s brands like Helmut Lang and Calvin Klein and the garments are all unisex.
These were the jeans I wanted to wear day in day out. The weight meant they were comfortable in the weirdly humid British autumn, the softness of the denim mean't unlike some of the hardier denims I reviewed they didn't dig into my chest when I sat down or relaxed into my chair and the simplicity of the styling meant I never felt like I was wearing something overly ​"heritage". They felt like they could go with any outfit. The price isn't the cheapest, but it's comparable to quality selvedge denim in the same space and not much more than you would pay for the higher end of high street options.
The brand also offers options for a classic Levi's 501 style straight, relaxed (tapered essentially) and wide fit (which I ended up purchasing as well) alongside jackets, hats, bags and a novel pair of elasticated denim track pants in 6 tasteful washes and two additional black options, a raw black and washed black thats closer to grey. This simplicity means there's something to suit almost any wearer.
A note on sizing: I decided to size down from 32 to 30w for a more classic fit on the waist but the design is approximately 1 size oversized in keeping with the 90s styling, also I assume because of the unisex nature (and due to washing, though this was in cold water) the legs shrunk to just above the shoe on my 30" length legs on the 30" waist pair so if you're on the taller end they might not suit. (I'm 5'11 and thought they were perfect)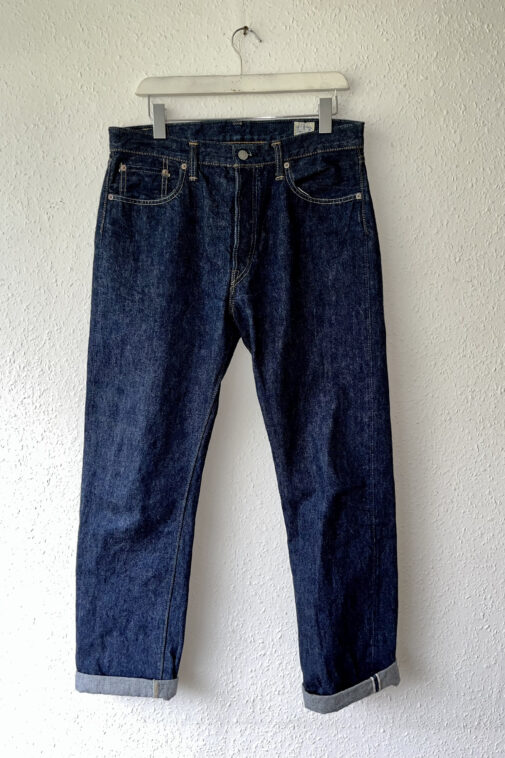 Also good
Orslow
105 (One rinse)
A jean that demonstrates everything great about Japanese denim from the quality of fabric to the obsessive adherence to authenticity. A near perfect classic pair of jeans.
The first thing that strikes you about the Orslow 105 is the fabric, a rich deeply indigo 13.5 ounce Japanese denim with a fuzzy, neppy finish. This couldn't be further from the smooth uniform tone of mass market denim or even the majority of the higher end selvedge denims being sold at a similar price point and speaks to the care that most Japanese denim brands take. I'll take this opportunity to plug David Marx's Ametora a brilliant book that speaks to this history.
The fit is a slim straight that draws on 1950s and 60s-era Levi's, even to the extent that it recreates flaws in the machinery of that era (the leg twists slightly so the side seam appears off centre at the bottom) and the made in Japan construction shows a huge amount of dedication. It just feels like a beautifully preserved museum piece that you can pick up and wear.
Alongside anodised copper rivets and button fly that look like they've been tarnished and faded from years of use and a blasted looking leather patch and a pale yellow contrast stitch the 105 with one wash has a winning combination of worn in and ultra classic and if you're looking for an authentic feeling denim in a classic fit you would be hard put to find better.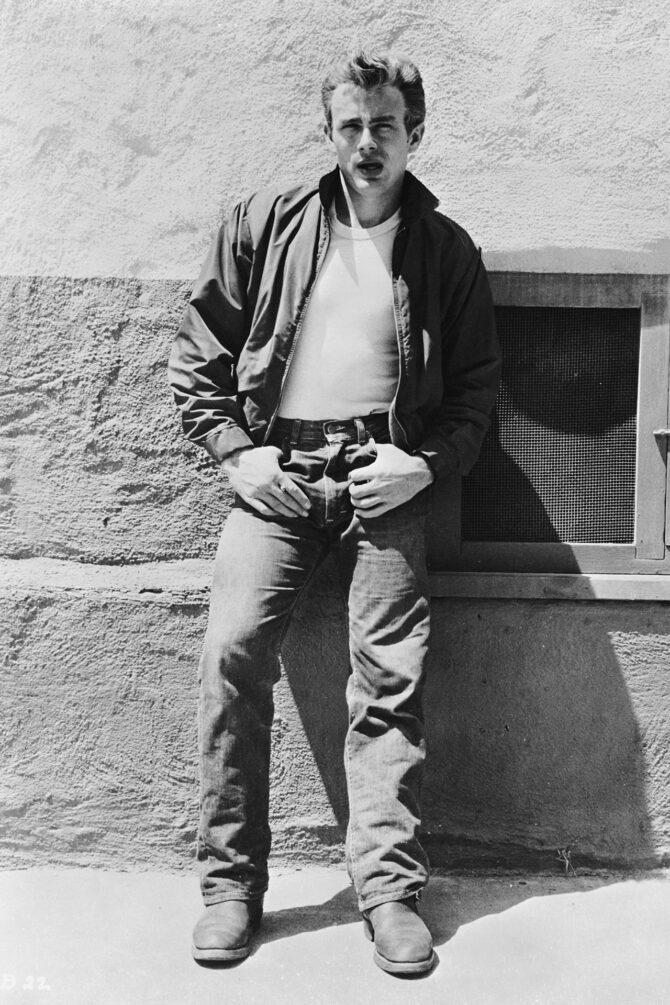 Orslow is all about fidelity to American classics and the 105 is a typically perfect take on mid-century denim of the type worn by James Dean and Marlon Brando.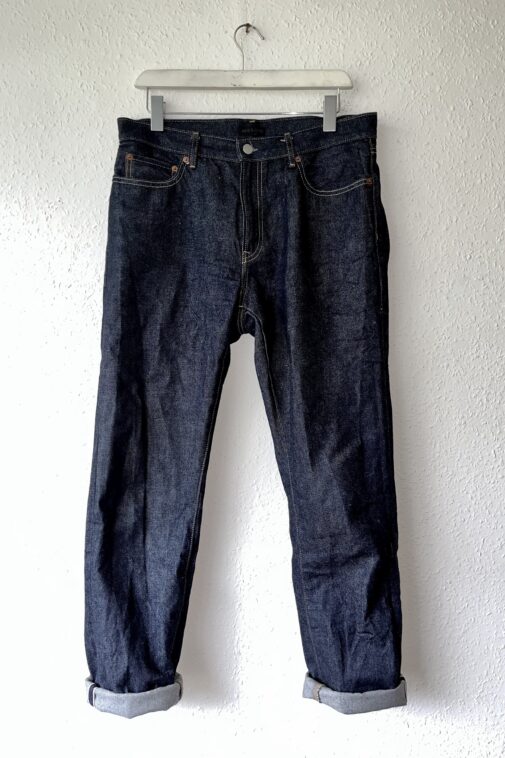 Best budget option
Uniqlo
Selvedge Stretch regular fit jeans.
A beautiful, dark selvedge fabric with simple detailing and a pleasingly tapered leg that would work for almost anyone. A jean with a quality comparable to the best of selvedge denim on the market for an unbelievably affordable price.
When Uniqlo first started opening stores in the west it was known for two things: a huge range of colourful knits and a selvedge denim that drew comparisons with A.P.C's cult standard jean but at a fraction of the price. Many years later the brand has continued to offer an excellent dark denim option for consistently good value. The secret as with all premium denim is in the fabric, a rich, dark and dense denim that is woven in Kurashiki, the spiritual home of Japanese Denim. with a small bit of stretch for comfort. A solid fit that tapers slightly past the knee and all the classic trademarks of a 5 pocket jean (sans patch) and you've got an item with premium appeal for a budget price.
This is an item to appeal to almost everyone and thus there isn't a lot of personality here, it's the platonic ideal of a jean but it lacks the character and quirks of the Orslow 105 and the environmental credentials and sleek styling of the Non relaxed, but those are in a completely different bracket and frankly not a fair comparison. If you want a classic pair of 5‑pocket jeans that will age beautifully and don't won't to spend out, these are the one to go with.
What to look for
Material: A good quality dark denim is all about the fabric, you want it to have some heft and weight, ideally a little bit of give so you're not digging into yourself — though some purists would disagree. While we couldn't put them through their paces at quite the same level as somewhere like Heddles, I cold washed and wore all pairs for about 8 months to see how the colour changed and faded. Depth of colour is key to the aging of a great pair of jeans.
Fit: There is literally thousands of fits of jeans, and every brand has their own way of identifying them. Generally we were aiming for straight to straight tapered fit with a mid-rise and a pattern that fit well throughout the waist and legs with no bagging or catching and a clean line through the leg.
Versatility: We looked for a jean that could work with a wide variety of items, dressed up or down, with a knit or a hoodie and still look right. We also wanted one from a brand that offered a variety of shapes and washes to suit a wide range of people.
Price: We wanted to create a snapshot of what denim for a range of price points from high end designer like Lemaire to affordable hughstreet like Uniqlo. Ideally we thought a staple Jean would come in under or around £200. You can easily wear a good pair of jeans for 5 years and it's worth investing in quality more than say a white t‑shirt.
Sustainability and ethos: Ideally we like to see brands working to displace the impact that all clothes make on the environment. We were especially conscious of this with denim which uses large quantities of dye and water in its manufacture and is one of the most harmful garments.
Availability: We favoured brands and styles that had been offered over multiple years by brands with established distribution. You should be able to easily order and try the top picks in most parts of the world without difficulty.
The competition:
Community Clothing Raw Selvedge Straight: We love Community Clothing, a social enterprise come basics line by the designer Patrick Grant entirely produced in the U.K. using off time in premium factories. We were pre-disposed to love these but unfortunately they don't quite work for me. The denim had a slightly grey tinge that didn't look great after washing, it was a bit too thin and stiff and the contrast stitch was in a shade of yellow that was a bit too egg-yolk yellow and stood out awkwardly for me. I hope they get another chance to revisit these because £81 for a U.K. produced and ethical pair of denim sounds like a great idea.
EDWIN ED-55:
Lemaire Straight Leg Jean: At £330 these are well above the average jean in this list but I was curious about what the higher end of designer denim gets you. While these didn't become a staple for me they are a really interesting pair of jeans, a reminder that the higher end is really about design. The fit is high waisted with an outwardly curved straight leg which is entirely seamless on the outside and gives a pretty strong ​'70s vibe but not as exaggerated as a flair. The fabric is the real gem though, a really soft and unusual hairy hemp/​cotton blend with a nice amount of natural stretch. My wife has stolen them and I'll probably never see them in my wardrobe again.
A.P.C. Standard: Arguably the first brand to bring back classic raw selvedge denim from Japan in the early 90s after decades of washed out and treated styles dominating. The A.P.C Standard is a minimal 5 pocket style in a straight slim taper thats the loosest of their raw denim styles. These are true raw denim so the fit when you first wear them is pretty lumpy and stiff but after the first wash they fit like a dream. I'm afraid I didn't wear them nearly enough to do the fading and whispering justice but the denim is truly premium. My issue was really that the rise is quite low and they fit in more of an early ​'00s way than I prefer. A good choice for a more casual, jeans-and-t-shirt guy who really wants to work in a pair of raw jeans.
Levi's made and crafted 80's 501: A real gem from Levi's contemporary line, albeit a little on the slim side. My first thought when trying these on — my first 501s since I was a skater in the ​'00s — is how weird the 501 fit is. It's basically a cowboy jean, not as straight as I remember, more flaring in its taper, tighter through it's waist and thighs. That said, this is a great, flattering pair of jeans with some low-key detailing (love the dark navy take on the Levi's patch) and a brilliant organic selvedge denim which has a nice azure blue cast to it when washed. The other thing to note is these shrink…a lot. Like it's very classic shrink-to-fit, I've washed them once in cold water and they got significantly tighter.
L.E.J Knee Patch Work Jean: Something different from the small but Mighty L.E.J label, the product of a background designing for Lanvin, Dunhill and Drake's before setting out on his own making incredibly engineered luxury shirts and now some outerwear and denim. My first impression of these was awe. The denim was an incredible dense Japanese selvedge, the buttons were sturdy donut styles and the made-in-England construction of the crotch and pockets made them look bombproof. I also really like the workwear styled contrast stitched patches on the knees and the high waist, similar to Lemaire. That said, these fit pretty small. I would probably size up by 2 to get a more relaxed workwear‑y look. If you want a premium jean with a difference this is a good shout.